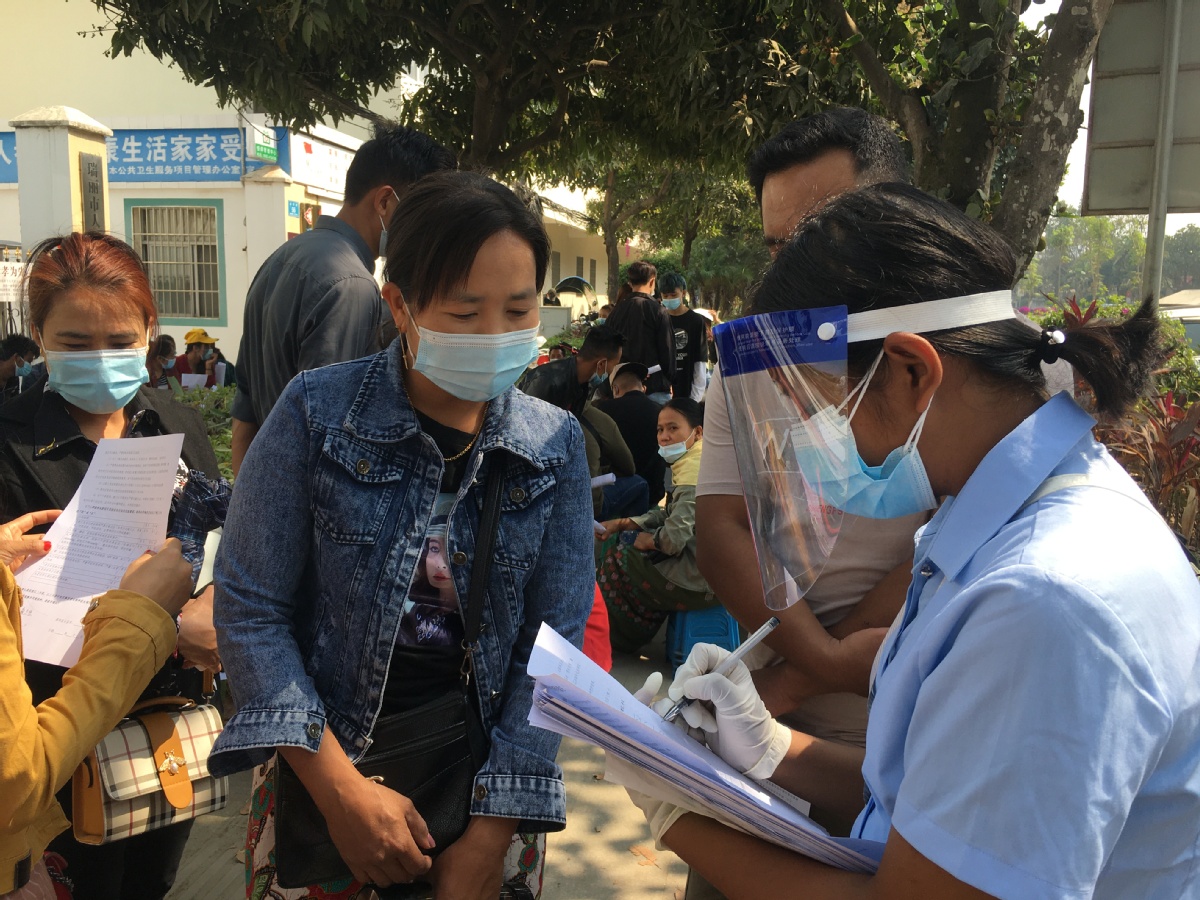 Wearing protective clothing, a face mask and medical-grade rubber gloves, Wen Furong has worked as a Myanmar interpretation volunteer at a vaccination station in Ruili, Yunnan province, for days, doing work that he says is exhausting yet meaningful.
The 22-year-old junior majoring in Myanmar at a university in Qujing, Yunnan, had come to Ruili for a trip and planned to leave on March 31. However, the recent COVID-19 outbreak in the city meant that all traffic in and out of Ruili was suspended on March 30.
As he had to stay in Ruili, he chose to serve as a voluntary interpreter to assist people staying in the city from the neighboring country of Myanmar.
"I translated the content of the vaccination notice to Myanmar to help them get vaccinated properly," said Wen, adding that it's not easy to wear full protective gear in the hot weather.
"The temperature can exceed 30 C in the daytime. Because they have to wear masks for a long time, volunteers' faces are usually very red," said Wen, who added that they feel proud of the contribution they are making to the city.
Wen is among the 1,546 people who have volunteered to work in the city as Myanmar interpreters in fields such as nucleic acid testing, epidemiological investigation, the tracing of close contacts and counseling, Gong Yunzun, Party secretary of Ruili, said at a news conference.
Gong said that because many people from neighboring Myanmar work and live in the city, people who can speak their language are urgently needed to help.
Ruili, a border city with Myanmar, has witnessed an increase in COVID-19 infections since the first positive nucleic acid test result on March 29.
On Monday, 15 new locally transmitted cases and two asymptomatic cases were reported in the city, the provincial health commission said on Tuesday. A second round of mass testing was launched in the city on Tuesday morning.
Zhang Mapo, who runs a jewelry business in Ruili, now serves the city as a volunteer. She came to a vaccination station in the early morning to help maintain social distancing among people waiting in line, as well as to provide help as an interpreter.
"I can speak Myanmar, as well as the languages of the Dai and Jingpo ethnic groups (the two major ethnic groups in Ruili), so I registered as a volunteer," she said.
"I met a man from Myanmar who was too nervous to know what he should do," said a volunteer named Yu Mei. "I told him China has quality medical conditions and we will help him solve his difficulties."
Many people from Myanmar who work and live in the city have also signed on as volunteers.
"I feel honored that I can do something in epidemic control. I live at the border, and Ruili is like my second hometown," said Zu Rong from Myanmar, who has volunteered to work at a nucleic acid testing station.
Meanwhile, the Artificial Intelligence Lab of Yunnan province also donated 100 language translation devices to help Ruili.
"The device, which looks like a cellphone, can translate between Chinese and 41 languages including Myanmar and Vietnamese in spoken or written words," said Mao Cunli, an associate professor at the lab.