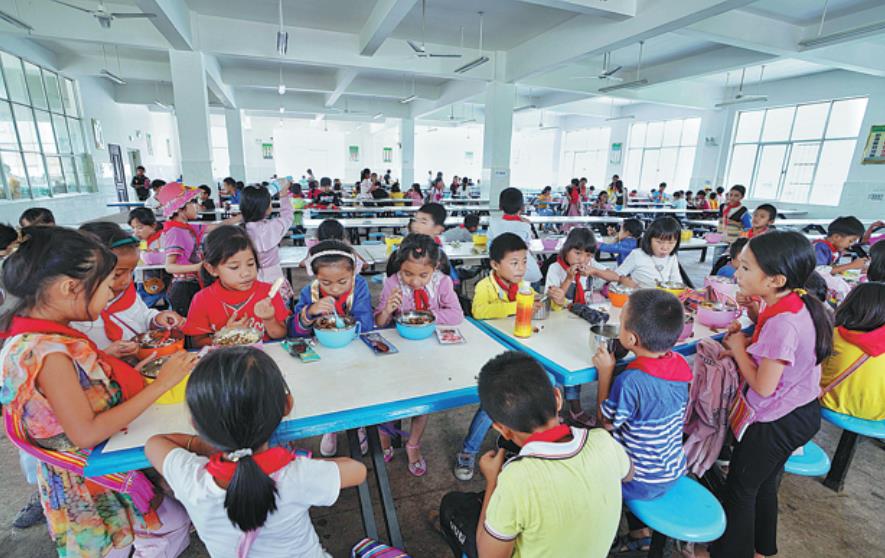 Tea and tourism are helping formerly impoverished people from ethnic groups flourish as times change
Xishuangbanna Dai autonomous prefecture in the southwestern province of Yunnan was once a complex mixture of borders, ethnic groups, mountainous areas and poverty.
In 2014, the prefecture was home to 71,055 people, with about 10 out of every 100 residents mired in poverty.
Members of ethnic groups accounted for 93.3 percent of the impoverished population, with five distinct groups who were backward economically but had rich cultural resources, accounting for 37.5 percent of the total.
Four years later, 1,720 members of the Jino people in Xishuangbanna, who had been officially listed as impoverished, had met the national poverty alleviation standards.
The Jino live in Jino Mountain township in Xishuangbanna's Jinghong city. When New China was founded in 1949, they numbered only a few thousand, and their lifestyle was primitive as they dressed in clothes made from tree bark and lived in thatched cottages.
On June 6, 1979, the Jino people were officially recognized by the government as China's 56th ethnic group. Since then, their history has entered a new, prosperous phase.
After 40 years' hard work, the ethnic group has been lifted out of poverty. The people have adapted to the modern world and the Jino are on the way to realizing a moderately prosperous society in all respects.
Yanuo village is located on the southeast of Jino Mountain township. The settlement, which includes an ancient tea mountain, lies at an altitude of more than 1,200 meters.
The mountain is home to 67 hectares of tea trees-from 100 to 800 years old-and it has abundant rainfall, which provides a unique climate that allows the trees to prosper.
The main source of income for the villagers comes from picking, processing and selling pu'er tea.
Qie Wei, 38, a local grower, said her family's circumstances have been completely modernized, and now their lives are no different from those of city dwellers.
In 2006, after she graduated from the Yunnan Communications Vocational and Technical College, Qie returned to her hometown to process and sell the local tea.
"The traditional tea garden is a great treasure left by the ancestors of the Jino people," she said, adding that in 2018 her family earned more than 300,000 yuan ($47,000) from their 2,000 tea trees.
Modernization, integration
Qie's family is a "contact family" for Zheng Xiaoyun, a renowned scholar whose studies focus on the Jino. Zheng moved to Jino Mountain township in October 1983, when he graduated from Yunnan University, with the aim of studying the group's integration into modern society.
He was shocked by the scene that greeted him. "The people all lived in thatched cottages, and they only owned a few iron pans and a couple of shotguns," he recalled.
In the following few years, he visited all 40-plus villages in the area. Few were connected by road, so it took a couple of days walking to reach some remote settlements. At the time, Zheng couldn't stop wondering if the villages would achieve modernization within the next 30 years.
"Now, my doubts have long disappeared. With the help of the Party and the State, the Jino people have worked hard to become stronger and have made brilliant achievements," he said.
He noted that the development of education has played an important role in the group's progress.
"Education has changed several generations of Jino. They love learning and they are diligent and eager," he said, adding that when he conducted research at Jinghong No 2 Middle School, the Jino students were all top of the class.
"From the founding of the first school in 1965 to having 36 college graduates in 1991, the Jino have cultivated many talented people who have helped the ethnic group continue to develop," he said.
From 2014 to 2017, Jino Mountain township issued about 250,000 yuan to 204 people as scholarships to encourage them to continue studying.
Having conducted research in Jino villages for nearly 40 years, Zheng believes that all the developments-whether in infrastructure construction, health, education, culture, society or finances-are the result of support from the government and wider society.
Zheng said that even though the Jino have achieved remarkable things, the years of development have not always been stable.
"We need to further local green economic development and improve the quality of development," he said.
In recent decades, Yunnan has worked to develop the tea industry and launch policies to employ Pu'er tea and help people in mountainous areas overcome poverty.
As such, Yanuo grabbed the chance to develop its own tea industry. The residents invited tea companies to cooperate with local growers and have founded two tea tree cooperatives.
In 2018, the combined income of the 410 villagers was about 6 million yuan.
Li Baizhong, head of Jino Mountain township, said that as China's only exclusively Jino settlement, people have worked hard to develop the green industry, including pu'er tea and rubber, and have achieved remarkable results in targeted poverty alleviation.
There are seven village committees and 46 old villages in the township, with about 14,300 people.
In 2019, the township's total income was 255 million yuan, about 264 times higher than in 1978, he said.
Bapo, a village in the township, has also witnessed the fight to beat poverty. In 1997, the per capita annual income was just 620 yuan and only a few families lived in houses with tiled roofs. Now, each family has a modern house, and private cars are common.
Bapo's development has been based on the growth of local tourism. The village has built a route that combines a tourism site, the village, a museum and an ethnic culture park, which attracts many domestic and foreign tourists.
The rural tourism industry has helped to create jobs for more than 180 villagers, and some sell traditional Jino cultural products, such as handicrafts and traditional clothing.
Many residents have also been inspired to open tea workshops, restaurants and homestays, which have boosted their earning opportunities. In 2018, the villagers' average annual income reached 13,300 yuan.
Chun Lei, 40, lives in Teluolao village in the township. He didn't have a bank account or any savings before the age of 32.
In 2014, his family was registered as a low-income group. The government offered training to its members, who gradually started planting rubber, mangoes and eco-friendly tea.
By 2015, the rising prices of tea and rubber saw his family lifted out of poverty. In 2018, he sold his homegrown tea for 50,000 yuan and also made 80,000 yuan by selling tea he had bought and processed.
"We used to wait for businessmen to come to us with cash to buy our tea. Now, I can sell it through a WeChat message," he said.
Yin Shaoting, a professor of anthropology at Yunnan University, has been studying the Jino for a long time.
"The great changes for them over the past 40 years have proved the correctness and wisdom of the Communist Party of China's national theory and policies," he said.
"The great changes are a vivid manifestation of the superiority of socialism with Chinese characteristics. They are also a symbol of the overall progress of the material and spiritual civilization of the Chinese nation and have proved that Chinese civilization is vast, profound and full of diversity, inclusiveness and enterprise."