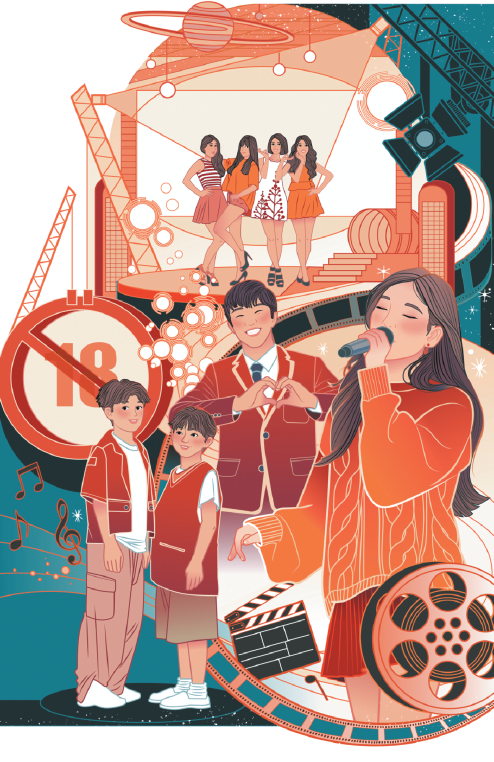 Entertainment industry falls in line as scrutiny of shows aimed at youth rises
China's National Radio and Television Administration issued a notice last month that cast a spotlight on the country's idol industry.
Reality television competitions for those hoping to become idols can no longer be shown according to the notice issued on Sept 2.
It further stated that online platforms should create more teen-friendly programs to ensure that young people receive more wholesome content. Broader rectifications of "fan culture" and the "idol industry" have also been urged.
The Publicity Department of the Communist Party of China Central Committee also issued a notice on Sept 2 about regulating the entertainment industry, highlighting the negative influence of fan quan, or fan clubs, on children.
According to a report released by the China Internet Network Information Center on July 20, about 8 percent of the country's 183 million netizens under the age of 18 follow celebrities online, and most are middle school students.
One of the country's most popular boy bands is Teens in Times, or TNT. The seven-member group was launched in 2019 and soon developed a large fan base, with over 8 million followers on Sina Weibo, China's Twitter-like social media platform.
After the notices were issued, two TNT members-Yan Haoxiang and He Junlin, both aged 17-withdrew from Xia Ri Shao Nian Tuan, a reality show on livestreaming platform Mango TV.
Gong Yu, founder and CEO of iQiyi, another video website known for producing talent shows like China Rap and Idol Producer, announced that the platform has canceled the programs.
On Aug 20, talent agency Asia Starry Sky announced the creation of a band called Panda Boys. Consisting of seven boys aged between 7 and 11, the group made their debut in Chengdu, capital of Sichuan province, and soon stirred controversy on social media platforms.
Amid overwhelming criticism about profiting from school-age children, Panda Boys disbanded just four days later.
There have been increasing concerns about the influence idol culture is having on young Chinese, with scandals involving celebrities-such as Chinese-Canadian star Kris Wu, who is dealing with rape accusations; actress Zheng Shuang, who allegedly abandoned her partner and their two surrogate babies and has been fined 299 million yuan ($46.3 million) for tax evasion; and Chinese actor Zhang Zhehan, who visited Japan's Yasukuni Shrine, which China regards as a symbol of past Japanese militarism-sparking public outrage.
On Sept 18, the Ministry of Culture and Tourism issued a notice on strengthening the management of agencies and celebrities and on promoting a healthy environment for the performing arts industry.
Besides regulating showbiz staff and licensing agents, it stated that organizers of performances should bar children from participating in fan club activities, including paying for membership, purchasing idol-related merchandise and voting in contests, and event organizers must get permission from parents when they invite children to perform publicly.
Agencies involved in modeling, casting and acting that sign children should guarantee that they receive the schooling mandated in the Law on the Protection of Minors, the Education Law and the Compulsory Education Law, the latter of which outlines China's nine-year mandatory education standards.
Agencies are also prohibited from misguiding their young charges or encouraging them to focus on chasing fame.
"There are many ways to achieve fame overnight due to the popularity of social media platforms. This can lead young people to obsessively compare themselves to others in an unhealthy way," a netizen commented.
Another wrote: "Many young people want to become stars because they think it's an easy way to make money. They want to live a life in the spotlight. However, it's sad that they do not want a career and just want to be famous."
Competitive talent shows offer young people a short cut to fulfilling their dreams of becoming stars. Shows like Produce 101 and Youth With You, which follow the trainee system used to groom South Korean pop idols, have been massively popular in China in recent years.
Catering to the constant need for fresh faces, companies have raced to recruit and train young people, especially teenagers, to follow in the footsteps of successful groups like TF Boys, Rocket Girls 101 and Nine Percent.
According to "Si Ming", a former agent for a Chinese boy band jointly produced by Chinese and South Korean entertainment companies who preferred not to give her real name, the companies pay for dance and vocal classes, provide accommodation and even give trainees considerable monthly living allowances. Parents travel from all over the country to take their children to auditions.