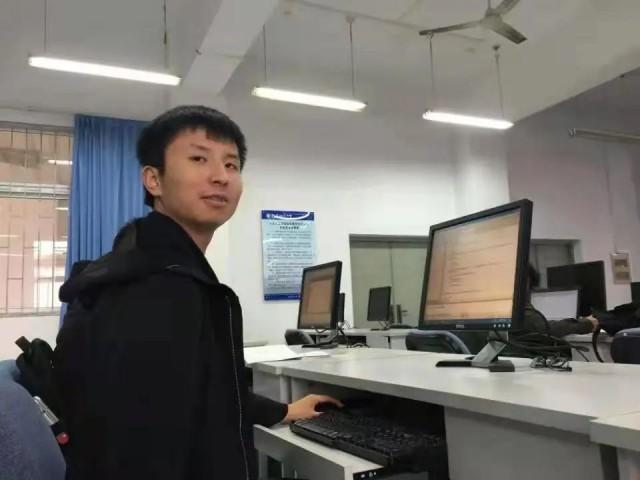 Yuan Xin, a one-armed doctoral student from Wuhan University of Science and Technology in Wuhan, Central China's Hubei province, touched many netizens with his inspiring life story.
Yuan, who suffered a disaster in his childhood, is now 26 years old and a third-year doctoral student who has coded using only one hand for seven years, earning more than 30 honorary awards, including one invention patent, one utility model patent and one design patent.
He went from a novice who had never touched a computer before attending university to a senior student in the lab, leading his junior peers on the path of scientific research.
"If I complain about fate, then all I can do is scribble through life. There will always be people who succeed in life. Who says it can't be me?" Yuan said during an interview with Changjiang Daily.
When asked about his future plans, Yuan stated he plans on continuing academic research, noting he's rather fond of conducting scientific experiments.
Yuan's achievements did not come as a surprise to those who knew him. Often having to work late due to his circumstances, Yuan was well known to be the first to enter a lab for experiments, sometimes as early as five in the morning.
During holidays, he would still be seen hard at work.
"He will always come earlier and leave later than you," said Xu Xin, Yuan's doctoral supervisor.
"He isn't that different from us. His progress is faster and he worries about more things in the lab than us. No matter who asks him for help, he's always welcoming," said Wang Shiqin, a junior student who published two SCI articles with Yuan's assistance.
In addition to academic achievements Yuan will sign up for any competition or activity.
During a sports meet, no one in the university signed up for the 10,000-meter long-distance race. Yuan volunteered and ran the whole length while it was raining. His participation moved many teachers and students that day.
"It's hard to have such a high level of achievement, even for students without physical limitations," said Li Kenuo, Yuan's undergraduate counselor.
"Yuan lost an arm. It takes 10 or even 100 times more effort than ordinary people to achieve such a result. The difficulties he faces, I know them," said Fang Yuan, Yuan Xin's mother, who often cries in joy at the news of her son's achievements.
At the age of 3, Yuan was hit by a truck while crossing the road with his mother. After five months of treatment in three different hospitals, Yuan's life was saved at the cost of his right arm.
By the time Yuan reached school age, his mother did not rush to send him into kindergarten. Fang, who firmly believes "knowledge changes destiny", instead taught her son at home first, helping him master writing with his left hand one stroke at a time.
"Gold will always shine, whether a person has one or two arms," Fang said.
From elementary to middle school, Yuan's grades were among the top in his class. Yet despite his best efforts, he could not escape ridicule and bullying from his peers, often laughed at in school and given nicknames.
These negative experiences made Yuan question whether his efforts were worthwhile. But his mother's words rekindled his resolve.
"There are a hundred ways a person can live, there's no need to care about the thoughts of others," said Fang, who encouraged and supported her son every step of the way.
In high school, Yuan experienced kindness and support from his peers and teachers. Together, they prepared for the gaokao, the national college entrance exam.
For his major, Yuan wanted to become a doctor in order to save more people like his grandmother-in-law, who passed away on the first day of his exam. The reality of his condition, however, meant he could never be in charge of medical operations.
After much thought, Yuan chose computer science, and was admitted into WUST in 2014.
Having never touched a computer before entering university, Yuan worked harder than most. He spent over three months in the library practicing typing and caught up to his peers quickly.
During his senior semesters, he was granted eligibility to the successive graduate and doctoral academic program, which allowed him to study in the university's graduate and doctoral programs after finishing the undergraduate curriculum.
Yuan said the opportunity motivated him to work even harder.
"I am slower than others, so there are always things that need completion. I can only work overtime."