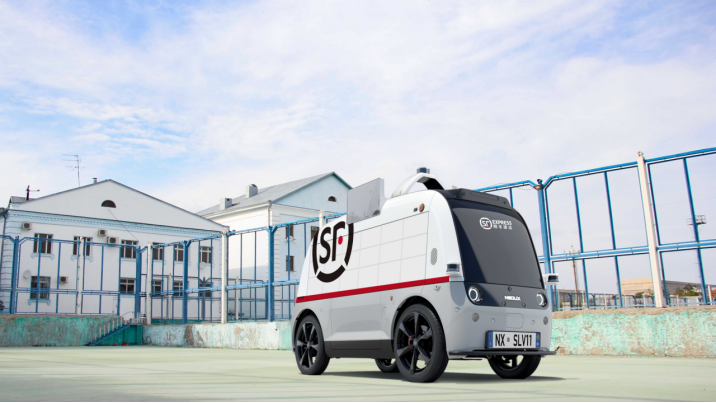 The application of high technology has made parcel delivery faster, more convenient and smarter.
Ahead of China's largest online shopping festival, Singles Day, which falls on Nov 11, an unmanned car filled with parcels made its debut at the Guangzhou Institute of Science and Technology in South China's Guangdong province.
The vehicle started operation on campus on Nov 2 and is set to better serve the busy parcel delivery season for students and faculty. The new addition to campus has attracted attention and quickly become a star among students. Some young people stopped the car, followed it and took photos with it.
The vehicle is from SF Express, a giant logistics company. Painted in white, the simple design resembles a device from science fiction.
It takes packages from the parcel collection station on campus to student dormitories and administrative buildings. Four routes are provided on campus.
"It aims to solve the 'last-kilometer' problem for parcel delivery services," said Hu Jing, product manager at the company's technology sector.
In an area with closed management, such as university campuses or industrial parks, the unmanned delivery vehicle helps send parcels from the community's parcel station to the building, she said.
Engineers have set its speed to 15 km per hour on campus to ensure safety. The top designed speed of the vehicle is 60 km/h.
The 2.7-meter-long, 1-meter-wide and 1.8-meter-tall vehicle has more than 20 sensors, including laser radar, ultrasonic radar and cameras.
When the vehicle meets an obstacle on its journey, such as a car or a student, it stops, waits for the obstruction to pass and carries on.
Though the service is new to the campus, student Zhang Ziwen has become a frequent user.
"It is much more convenient and saved my time to walk to the parcel station on the other side of the campus. It takes about 2 minutes now and the previous journey was more than 10," she said.
Her concern is the service is limited and she sometimes cannot book a reservation.
"Sometimes I have to wait."
The vehicle delivers about 100 parcels a day. The daily amount of parcels delivered to the campus is about 600 pieces.
"The cost is still quite high to use an unmanned vehicle for delivery. So we are unable to provide more services for now.
With the development of sensor production, it will boost manufacturing of the unmanned vehicle and lower production costs accordingly," product manager Hu said, adding more parcels can be delivered via unmanned vehicle by then.
She also said the company is about to add another vehicle at the institute to meet increasing demand.
The application of the unmanned delivery car has also been seen in hospitals during the COVID-19 pandemic in Wuhan, Hubei province, the hardest-hit area in China. It reduces direct contact to provide safer service.
If the unmanned vehicle has made "last-kilometer" delivery safer and more convenient for clients, it can also help move cargo at storage facilities, and boost the efficiency of packaging and sorting.
At a large-sized warehouse of a parcel delivery company in Kunshang, Jiangsu province, unmanned cars move products in certain routes to help sorting.
"In the past, workers on the sorting line usually walked more than 30,000 steps a day but are now down to 5,000 thanks to the unmanned vehicles," said Zhan Yeqin, deputy general manager of E-Logistics under STO Express, one of the major parcel delivery companies in China.
In addition, with the application of big data and cloud computing, the logistics company can precisely predict popular products and store those products in different warehouses across the country in advance. Once purchases are made, products can be delivered from the closest warehouse and make delivery faster.
Earlier this month, a client from northeastern China's Heilongjiang province received her parcel in six hours after her purchase and left us a message to applaud for the speed of delivery, Zhan said, attributing the fast delivery to the high technology.
Although this year's Singles Day online shopping spree stayed low-profile, without countdowns on platforms and headlines to showcase transactions, the parcel delivery sector still saw notable growth.
According to the State Post Bureau of China, 4.78 billion parcels were handled from Nov 1 to Thursday, a year-on-year increase of more than 20 percent.
On Thursday, Singles Day, the network handled 696 million parcels, a daily record.
China is expected to handle 95 billion parcels this year.