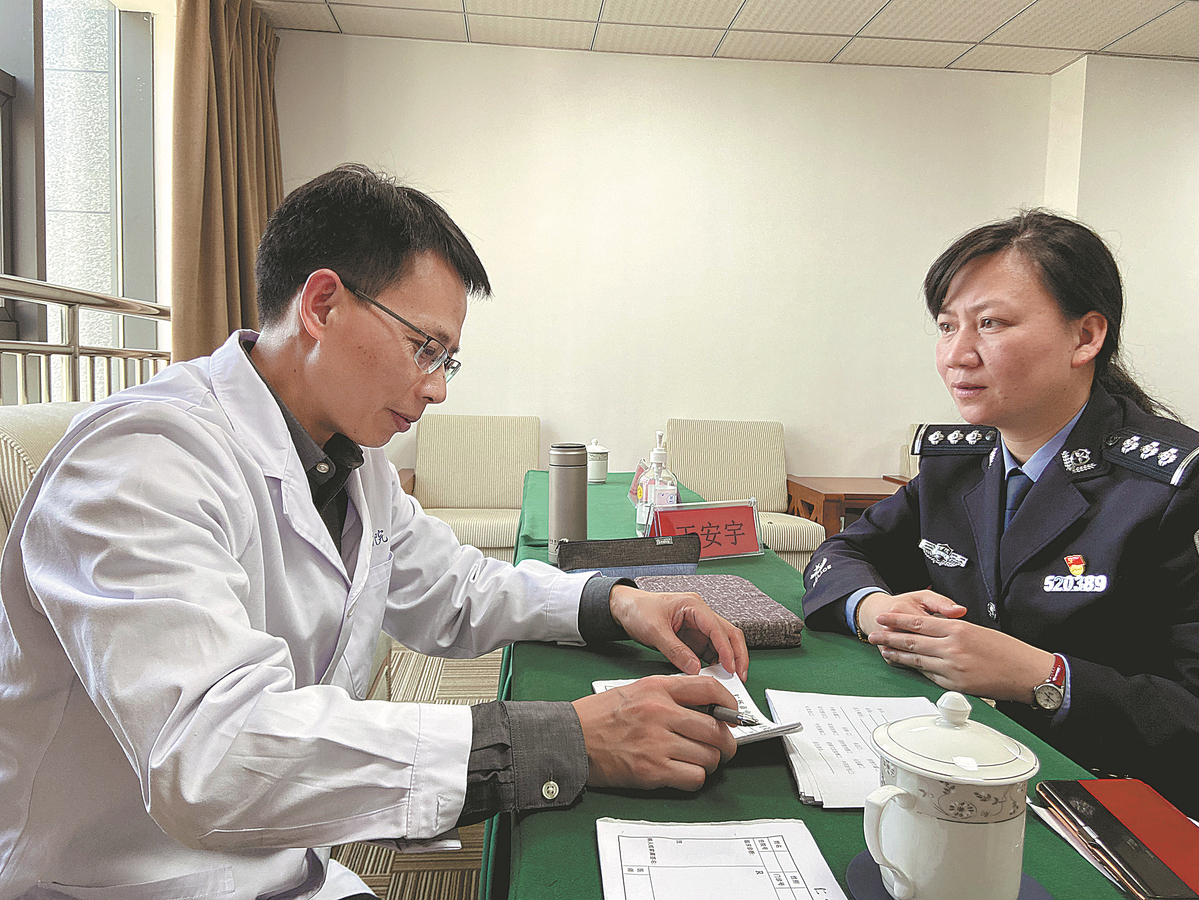 Hospital president says region's environment, natural resources make it an ideal place to grow medicinal herbs
Wang Anyu, president of a traditional Chinese medicine hospital, is promoting both TCM treatment and the cultivation of genuine TCM herbs in Renhuai, Guizhou province.
Located in the middle reaches of the Chishui River, Renhuai is suited for the growth of TCM herbs due to its environment and natural resources.
"Genuine TCM materials are produced and compounded in specific regions with designated natural conditions and environments, with particular attention focused on their cultivation, harvesting and processing," Wang said.
"Their quality and clinical effects surpass the same materials produced in other regions."
As one of the 12 characteristic and advantageous agricultural industries promoted by Guizhou, Chinese herbal medicine is an important means of increasing incomes.
Wang's team offers planting and processing guidance and signs contracts with farmers based on the actual use of the herbs.
"We plan to build an authentic TCM brand with local characteristics and cultivate a local pharmaceutical sector for processing and producing TCM decoctions," Wang said.
The 46-year-old graduated in 2005 with a PhD from the Xiangya School of Medicine at Central South University, where he majored in clinically integrated TCM and allopathic medicine.
He worked as an attending endocrinologist at a public hospital in Guiyang and did his post-doc at Wichita State University in the United States.
In 2018, as a visiting scholar at Mount Sinai Hospital in New York, his attitude toward traditional Chinese medicine was changed by a US doctor.
One patient who was unable to afford the high cost of treatment was forced to choose a more economical solution, which turned out to be successful.
"The most expensive treatments might not always be the best," the doctor told him. "I know in China you have very good therapies that can improve health without costing too much, like traditional Chinese medicine and acupuncture."
Wang made up his mind to learn more about TCM.
After returning to China in 2019, he visited famous Chinese physicians and experts around the country and read a lot of classic TCM texts.
The more he learned about the practice, the more he came to believe in its worth.
Wang was made director of the endocrinology department at the TCM hospital in Zunyi city, Guizhou, and was also invited by the Renhuai city health authority to practice in a town there.
After a year, he had built such a good reputation that patients from other provinces began to seek out his services.
Not long after, he became president of Renhuai's TCM Hospital, where he set up the province's first Chinese medicine ward. He brought in physicians to offer TCM treatments such as Chinese herbal therapy and herbal medicine acupuncture.
"We have many well-known Chinese physicians in Renhuai, and more people should benefit from their skills," Wang said. "We regularly carry out free medical consultations in towns, communities and schools, and we have treated over 8,000 people."
To protect and promote TCM culture in areas along the Chishui River, Wang set up a museum.
In conjunction with the traditional Chinese medicine ward, the museum is involved in the clinical use of TCM treatments, medicine patenting, and diagnostic and medical technology.
Wang plans to strengthen the cultivation of genuine medicinal materials and establish demonstration centers for genuine TCM materials.
In Xiaba village, Renhuai, Wang and his team learned that villagers are planting Dendrobium officinale, a herbal medicine that belongs to the orchid family. With sales of 3 million yuan ($440,700) a year, the plant contributes significantly to the incomes of 50 villagers.
"It's excellent. Our plan for strengthening TCM has been submitted to the local government, and we expect it will contribute to rural vitalization," Wang said.
Zhao Yandi contributed to this story.