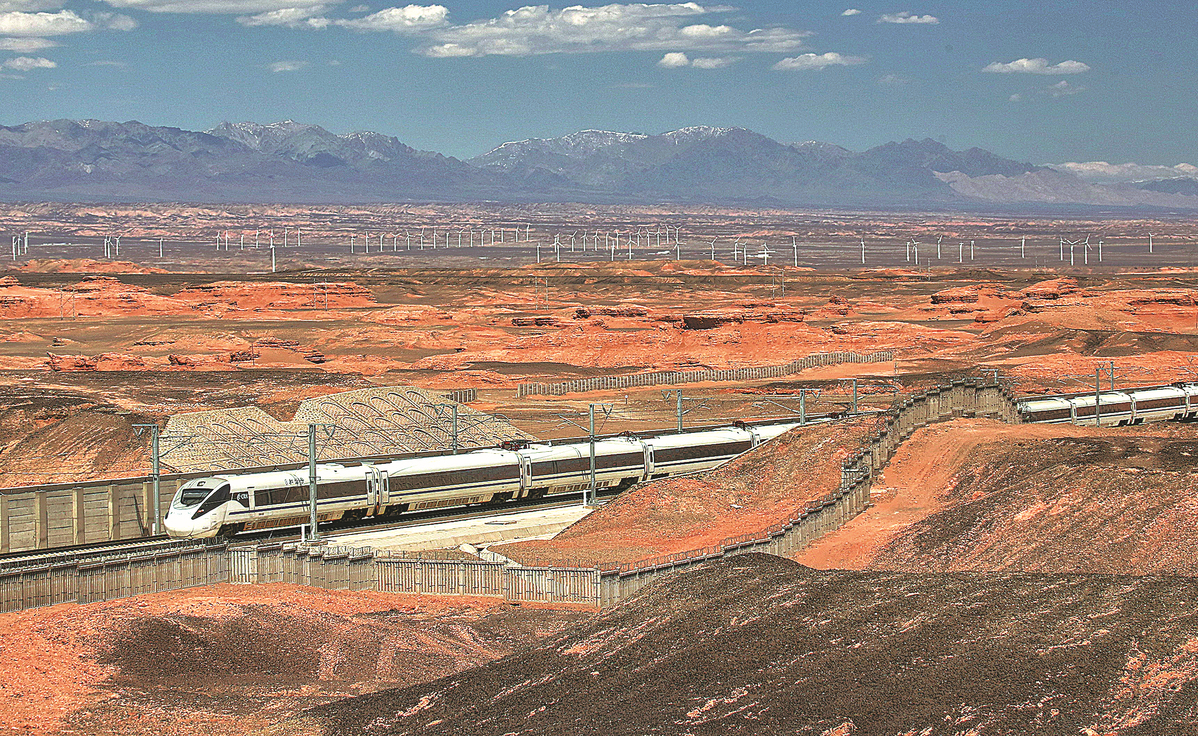 Northwest China's Xinjiang Uygur autonomous region has become one of the most popular destinations for tourists looking to escape from the heat wave this summer since most of the nation's provincial regions are being scorched by the relentlessly high temperatures.
A dedicated train carrying 333 holidaymakers from across the nation departed the Xinjiang capital of Urumqi on Tuesday to embark on a 14-day trip around the region that will terminate in Kashgar. It is the first time such a train has traveled that specific route.
The Xinjiang Railway Tourism Development Group said that when the train arrives in Kuitun, travelers have the option of transferring to buses that will take them to Dushanzi to explore the landscape along the Duku Highway. On the bus, passengers can take in sites along the 561-kilometer journey to the city of Kuche.
Travelers who prefer the railway tour can remain on the specially converted train, and the bus travelers will rejoin them in Kuche as the train continues south.
Huang Tingfen, the group's deputy general manager, said train passengers can dine on tasty food in the dining car, watch movies, enjoy piano music and take part in tea parties in customized entertainment carriages.
The group said 14 tourism trains began operating in Xinjiang last month, and another 26 will be launched soon.
The region's lower temperatures, gorgeous landscapes and diverse cultures help to attract many tourists. Recent figures from Xinjiang's Culture and Tourism Bureau show that the number of travelers surged this month, and the tourism market has been performing well since May.
According to the bureau, the region's 5A tourism attractions-those with the highest rating for tourism in China-have collectively seen over 110,000 daily visits this month, compared with 19,000 per day in May and 57,300 daily in June.
Data from travel agencies also point to a tourism boom in Xinjiang. Qunar, an online travel platform, said that reservations for flights from July 6 to Tuesday bound for the region doubled from those made during the same period last month. During that time, it said flights to Urumqi increased by roughly 110 percent from the same period in June.
Zhang Jie, director of travel for the Xinjiang branch of online travel agency Tuniu, said the region usually enters its peak tourist season from June to October.
"Reservations through Tuniu have been increasing since June 3, after the Dragon Boat Festival," he said. "Last month, the government and local authorities loosened travel restrictions for interprovincial tours, making Xinjiang a popular destination. Short videos on Douyin showing the beautiful scenery in Xinjiang have also helped attract tourists."
Zhang said tourists booking trips to Xinjiang through Tuniu mainly come from provinces and cities such as Guangzhou and Shenzhen in Guangdong province, and most are either young adults or families.
"About 84 percent of our customers join group tours, mainly smaller ones that accommodate four to six people. It's very convenient and cost-effective to join group tours, and tour guides can provide them with insight into the cultures and distinct landscapes along the way," he added.