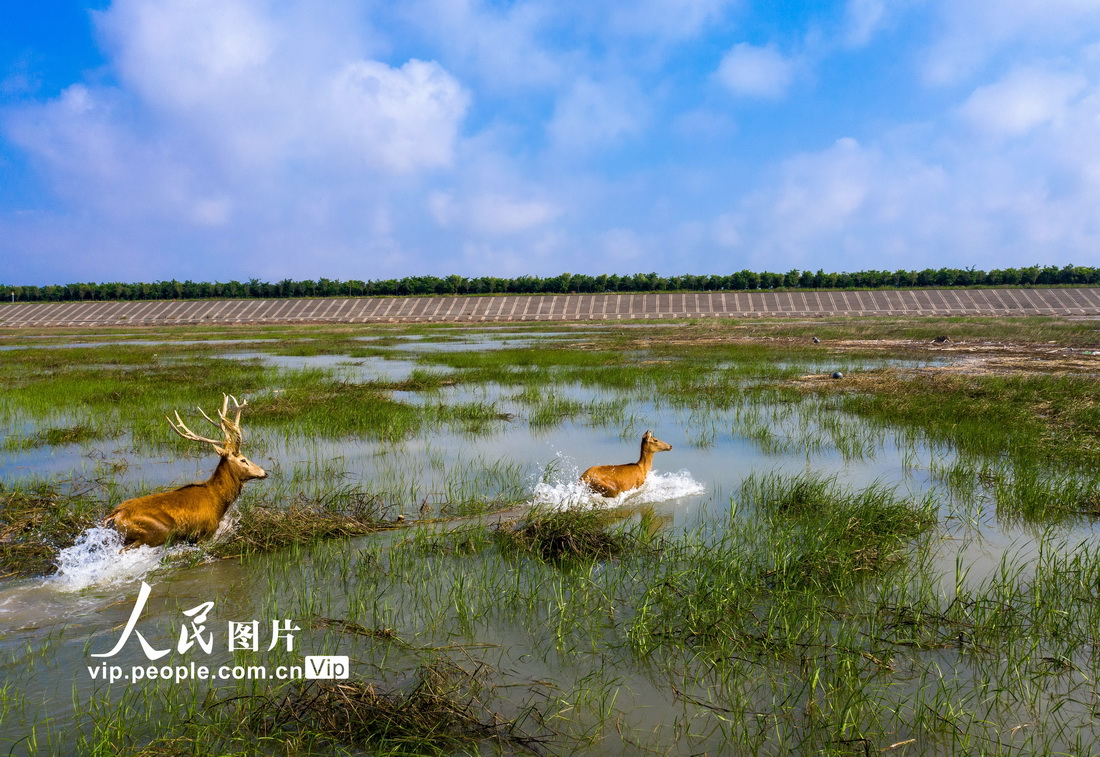 People witnessing herds of milu deer wading, eating and running on the grassland of the Dafeng Milu National Nature Reserve in Yancheng, Jiangsu province, may find it hard to believe that the species was once extinct in China.
A native deer species, milu once thrived along the middle and lower reaches of the Yellow River and along the Yangtze River. It became extinct in the wild in the early 20th century as a result of rampant hunting and habitat loss during the Qing Dynasty (1644-1911), according to an introduction provided by the reserve.
After 30 years of protection, as of last month, the nature reserve was home to 7,033 milu and many other wild animals and plants. In 1986, the reserve was established to welcome 39 milu back to China from zoos in the United Kingdom, and its population now accounts for 70 percent of the global total.
As the place with the world's largest milu population, the reserve is regarded as the richest milu gene pool on the planet. The sight of the deer flourishing is a tribute to Yancheng's efforts in promoting environmental protection.
Located on the shores of the Yellow Sea, the reserve covers 78,000 hectares. In 2002, as part of the Migratory Bird Sanctuaries along the Coast of Yellow Sea-Bohai Gulf of China (Phase I), it was included in the List of Wetlands of International Importance.
The sanctuaries, situated in the middle of the East Asian-Australasian Flyway, see more than 3 million migratory birds make stopovers at the wetland every year to breed and overwinter.
More than 80 percent of the world's spoon-billed sandpipers, which are critically endangered sparrow-sized shorebirds, are among these migratory birds. Over 240 species of wild animals, including white storks and red-crowned cranes, also live in the area.
In recent years, Yancheng has made great efforts to protect the wetland and make it an oasis for wildlife. As such, the city was listed as an International Wetland City in June, together with 24 other cities around the world.
"The reserve has received more than 110,000 visitors from 29 universities in six provinces, both online and offline," said Wu Qijiang, director of the Yancheng Wetland and World Natural Heritage Conservation and Management Center.
"We established 29 volunteer teams consisting of college students and recruited 402 volunteers for wetland protection. We also encourage more local residents, especially the young generations, to improve their environmental awareness and participate in protection work."
As of last month, the city had transformed about 1,300 hectares of fishing areas into wetland areas and established a wetland and wildlife preservation station to monitor the resources.
Guo Jun in Nanjing contributed to this story.