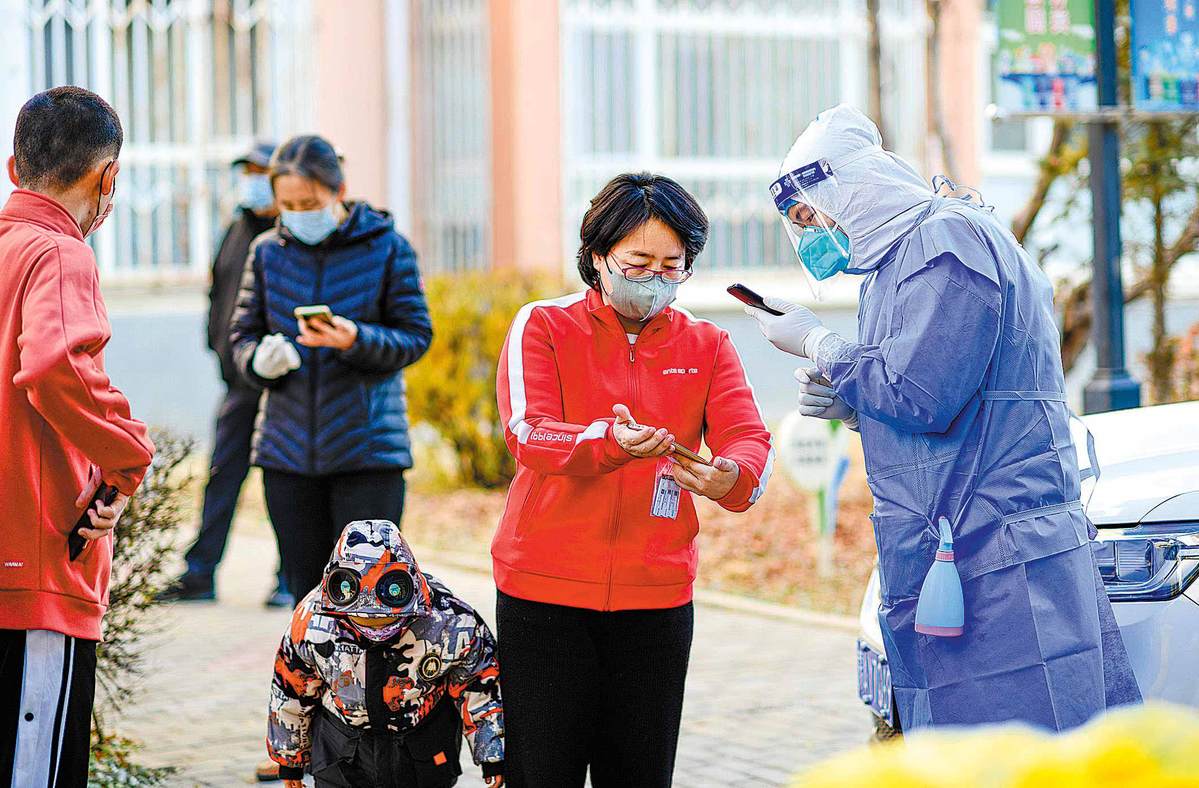 Guangzhou sends some to quarantine hotels as restrictions ease in other places
The transmission risk of COVID-19 in affected areas in Guangzhou, Guangdong province, has been reduced to a certain extent, following people being moved out of medium- and high-risk areas and taken to centralized quarantine facilities, according to local health officials.
"We have made great efforts to transfer people living in risk areas to quarantine in hotels, aiming to reduce the population density in such areas," said Zhang Yi, spokeswoman of the Guangzhou Health Commission, during a news conference on Tuesday afternoon.
The health authority said earlier that reserved hotels for quarantining people from high-risk areas had been put into operation, with 34,000 people already transferred to other cities for quarantine.
The official tally showed a record number of COVID-19 infections reported in the city on Monday, reaching 2,377, among whom 2,263 were asymptomatic carriers.
Of the new infections, 17 were found during nucleic acid tests in local communities or in clinics, according to Zhang.
Hardest-hit Haizhu district reported 2,212 new infections on Monday, highly concentrated in the Kanglu area of Fengyang subdistrict, according to Zhang.
However, sporadic cases were found in some higher vocational institutions outside the district's closed-loop management areas, she added.
There are also sporadic infections with unknown sources being reported in the subdistricts of Yuncheng and Helong in Baiyun district, posing risks of transmission at community level.
"We are making more efforts to deal with each sporadic case, as the risk of transmission at the community level still exists," she said.
Risk levels in some areas in Haizhu and Baiyun districts have been downgraded and closed-loop management measures in such areas have been lifted, as there were no new infections reported there for seven consecutive days, according to Zhang Zhoubin, Party secretary of the Guangzhou Center for Disease Control and Prevention.
"Efficient prevention and control measures have helped curb the spread of the epidemic in these areas, which were seen as the early epicenter of the latest round of the COVID-19 outbreak," he said.
In another development, a 98-year-old woman, along with her 78-year-old son, were discharged last Friday from the Guangzhou Eighth People's Hospital, a designated hospital for the treatment of COVID-19 patients, according to the hospital.
The woman, after being treated in an isolated ward for more than 20 days, became the oldest COVID-19 patient to recover in Guangzhou since 2020, the hospital said.
In a news conference on Monday, Zhang said all infections had been sent to designated or makeshift hospitals for treatment, without reports of cases in critical condition.
Inside a makeshift hospital in the Pazhou area of Haizhu district, a young COVID-19 patient surnamed Mo, with light symptoms, said he did not feel too bad after he was transferred to the hospital on Sunday.
"Living conditions including food here are good," said Mo as he practiced Chinese calligraphy beside his bed. "I brought papers, a writing brush and ink here when I was told to be isolated for treatment in the makeshift hospital."
Across the nation, several regions have released detailed measures to help tourists return home after being stranded by COVID-19 outbreaks.
On Saturday, 25 tourists who had been stranded in Datong, Shanxi province, packed their suitcases and took minibuses to the Inner Mongolia autonomous region and Shandong province.
They were the first people to be sent home during the static management period in Datong.
A notice from the city's COVID-19 epidemic prevention and control headquarters earlier this month said that people stranded in low-risk areas and who have a negative nucleic acid test result from within 48 hours can apply to leave the city once they obtain a letter of acceptance from their destination, either from their company or community.
The local government and police will direct them to railway stations, airports or roads.
The headquarters also said the lodging expenses of people stranded in the city will be paid by the local government.
On Tuesday, Hohhot in Inner Mongolia updated a notice saying that those stranded in low-risk areas and who have tested negative two times in three days before leaving the city can travel.
As of Nov 2, Hohhot's online platform had received 15,684 applications and approved 3,227 exits. Because Hohhot has not resumed its domestic flights and trains, stranded people can leave from surrounding cities, local authorities said.