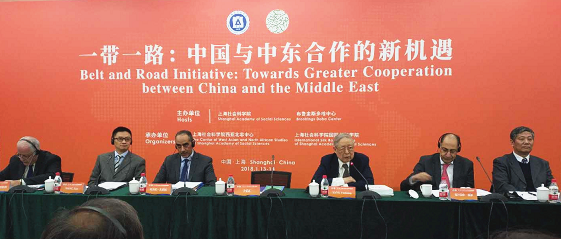 The forum
The forum "Belt and Road Initiative: Towards Greater Cooperation between China and the Middle East" was held on January 13 in Shanghai. Experts from Shanghai Academy of Social Sciences, the Brookings Institution, a nonprofit public policy organization based in Washington, DC. and several universities and think tanks from home and abroad had a deep discussion on the further cooperation between China and the Middle East during the "Belt and Road" construction.
Former Deputy Minister of Foreign Affairs Yang Fuchang said, the strong economic complementarities between China and Arab countries and the friendly and harmonious diplomatic relations have laid a good foundation for further cooperation between the two sides. "China wishes the 'Belt and Road', which is an open, equitable, democratic vision, to be integrated into the development plans of various countries, and looks forward to ultimately sharing the fruits with them," he added.
Party secretary of Shanghai Academy of Social Sciences pointed out that China has always focused on the development of the Middle East. Recently, the international oil price trend has undergone a change from the past with the changing international situations, which is closely related to the international economy and its transformational development. From the perspective of economic and trade exchanges, China and the Middle East are at a new historical turning point. The total trade between China and 23 countries in the Middle East has by far exceeded $310 billion, which means that the solution on trade deficit and trade structural problems should be concerned about.