Online teaching has become a buzzword at this year's Two Sessions - the National People's Congress (NPC) and the Chinese People's Political Consultative Conference (CPPCC), China's biggest annual political event that is currently underway.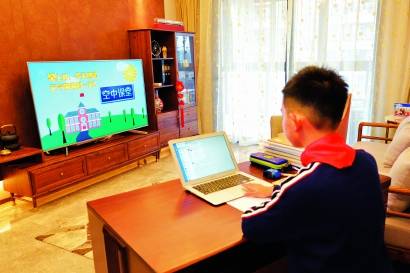 A student takes an online course at home. [Photo/ whb.cn]

Data released by the Chinese Ministry of Education shows that as of May 8th, 1,454 colleges and universities nationwide have launched online teaching, with a total of 17.75 million students participating in 2.3 billion sessions.
The online teaching that has been adopted around the globe during the pandemic is unprecedented in the history of higher education and is also the first experiment on a global scale.
In the view of Wang Xiaofan, vice president of Shanghai University and a CPPCC National Committee member, the year 2020 will be a starting point of a new round of educational reform driven by educational philosophy, teaching techniques and learning methods.
"In the past, it was believed that schools only undertake the education of students while they are in school. Many teachers thought that they couldn't teach before a screen," said Wang, but the online practise amid the epidemic has reshaped the educational philosophy and teachers are even enjoying the flexibility of online teaching.
Huang Zhen, vice chairman of the Shanghai Municipal CPPCC and vice president of Shanghai Jiaotong University, suggests that China should vigorously promote the combination of online and offline teaching, since high-quality educational resources can be shared via the online mode.
However, there is also room for optimization of online teaching. Gu Xianglin, vice president of Tongji University and also a CPPCC National Committee member, thinks that while online teaching is ushering in a golden period of development, interaction in some courses is not currently satisfying enough.
"What's more, the current online courses only teach knowledge, but don't cover other aspects concerning the cultivation of a person, like moral education, intellectual education, sports and aesthetic education," said Gu.