Having been working in Danone, a multinational food products company, for more than 20 years and now being the Senior Vice President of Danone Nutricia ELN Greater China, Bruno Chevot has witnessed both the company's business improvements and social benefits. In his words, since Danone was introduced to the Chinese market, the dream of safeguarding a healthy China is becoming clearer.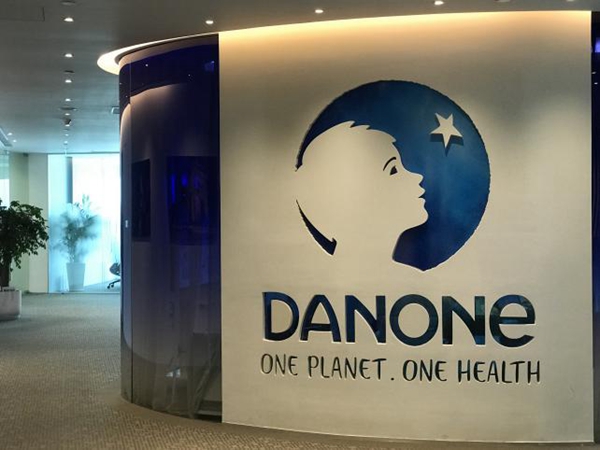 Early life nutrition to aid "Healthy China 2030"
As soon as Danone yogurt products were imported to China in the 1980s, they made up more than 60% of the Guangzhou market, although at that time people still had not been used to yogurt drinks.
The fast growing Chinese consumer market is making more and more sense to Danone, especially the early life nutrition section. In 2018, the sales of the early life nutrition business in China, for which Bruno is especially responsible, reached 30% of Danone's global early life nutrition business.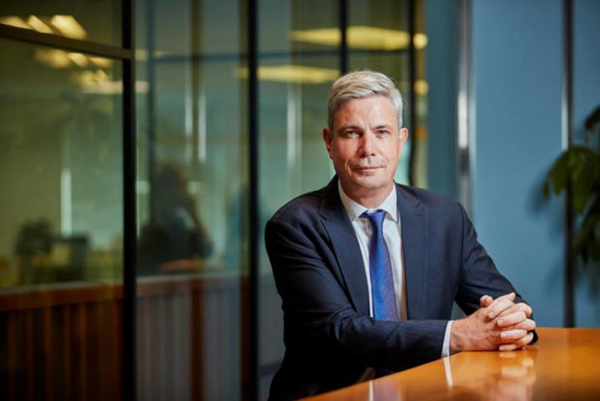 Bruno Chevot, the senior vice president of Danone Nutricia ELN Greater China. [Photo provided to Eastday]
"China is a market that is always evolving," said Bruno, looking back on his life here over seven years. "It has a population of 1.4 billion, so serving Chinese consumers, especially Chinese babies, is the focus of our work. In 2013, I introduced well-known brands such as Aptamil and Nutrilon to the Chinese market which received quick favor."
Moreover, to meet the needs of the Chinese market, the company has been increasing investment in supply chains overseas. For example, a special nutrition production base was launched in the Netherlands in March 2019, with an investment of 240 million euros. "In addition, with the help of cross-border e-commerce platforms, milk powder products made in Europe, New Zealand and the United States are increasingly being introduced into China."
Bruno thinks that the "Healthy China 2030" strategy, in which maternal and child health promotion has been emphasized, is no doubt in line with the company's goals. "I am very happy to see China implement such a strategy. Over the past years, Danone has benefited a lot from China. I always tell myself that it is my mission to protect the health of Chinese babies and Danone has always been committed to providing Chinese babies with even safer and higher-quality and nutritious products."
Bruno is quite proud that the Nutricia ELN program has been researching nutrition requirements in the first 1,000 days of life for more than 120 years. It also has more than 40 years of experience in breast milk research. Inspired by breast milk, Nutricia keeps the product innovation.
"Danone Nutricia is the first company in the world to add prebiotics to infant formula milk powder, creating a new era of infant formula. In the future, we will also simulate the structure, composition and function of breast milk to develop more milk powder products suitable for Chinese babies."
More commitment and R&D investment in China
For Bruno, over the past two decades he has not only gained business success, but also seen the social progress the company has brought.
In 2013, Danone launched the Nutrigo project to help improve the health conditions of children in China's poverty-stricken areas. Seminars on children's nutrition were also held to help local parents learn about nutritional knowledge.
Early this year, when the coronavirus pandemic broke out, with Bruno's help, medical supplies like masks, ICU breathing equipment and ambulances that were urgently needed in China were collected and sent to Wuhan, the early epicenter of the pandemic.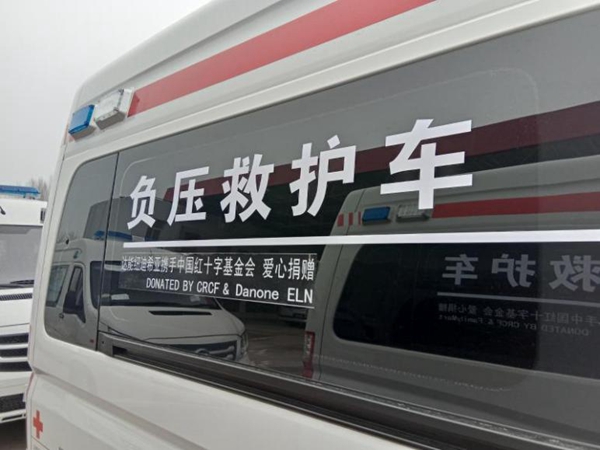 The ambulance Danone donated to China.[Photo provided to Eastday]
The efficient anti-pandemic measures taken by the Chinese government have further strengthened Bruno's confidence in investing in China. "Since the outbreak of the epidemic, China has introduced a series of economic policies to support enterprises. In the early stage of the epidemic, the Shanghai Municipal Government provided us with tremendous support in terms of production, material procurement, and logistics, making us one of the first local companies to resume work. Such high efficiency is really impressive," said Bruno.
Bruno said that the company has announced an investment of 100 million euros to increase its business in China, including establishing R&D centers and production bases. The recently opened new research center in Shanghai will not only introduce Danone's cutting-edge R&D concepts and scientific research results in France, the Netherlands and Singapore, but also share resources with Shanghai and China's medical institutions.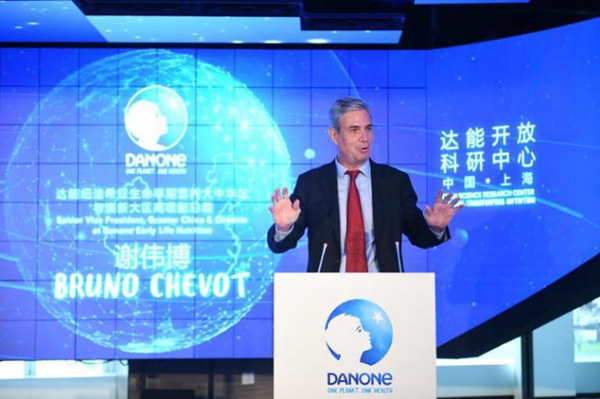 Danone announced the opening of the new Shanghai research center in July 2020. [Photo provided to Eastday]
When asked about his impression of Shanghai, he smiled with satisfaction. He said the adventurous and enterprising spirit of this city is similar to his own temperament. "In my career, I have been to many cities, but Shanghai is my second hometown. Shanghai has many opportunities as well as challenges. Like many people living here, I am very familiar with the city's changing society. The continuously optimized business environment is quite impressive."