What are the most popular words and phrases of 2021? According to a big data report by short video app Kuaishou, the top ten are as follows.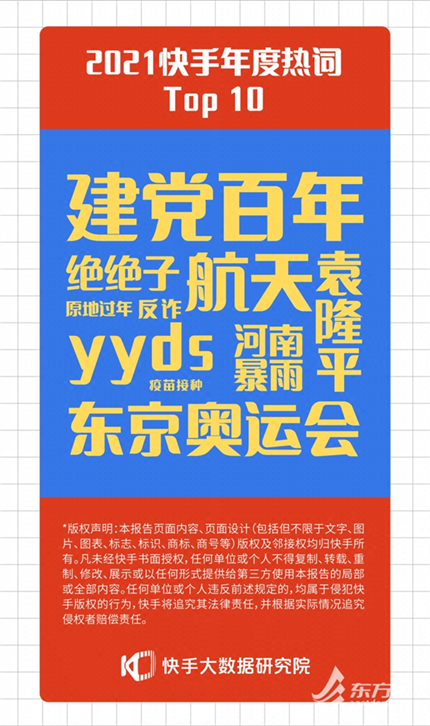 1. stay put during Spring Festival 原地过年
The Spring Festival in 2021 was a bit special. To reduce the risk of spread of the epidemic caused by the movement of people, many people responded to the call and stayed in their current residing localities rather than travelling.
2. vaccination 疫苗接种
COVID-19 vaccination has become one of the signs of the post-epidemic era. In order to build a herd immunity barrier, China started large-scale COVID-19 vaccination in early 2021. As of November 5, the country has reported a total of more than 2.3 billion doses of vaccination.
3. Yuan Longping 袁隆平
Devoted to research on developing hybrid rice so as to increase crop yields, Yuan Longping, the father of hybrid rice, passed away on May 22, 2021, aged 91. On November 15, he was buried in Changsha, Hunan Province, and many netizens prayed "rest in peace" for him.
4. Henan rainstorms 河南暴雨
A heavy rainfall hitting central China's Henan Province caused many deaths. In the face of the record floods, the Chinese nation demonstrated strong cohesion, volunteerism and great love. People from many places contributed to the rescue and relief.
5. yyds
"yyds" means "yong yuan de shen" ("greatest of all time": GOAT). This is an expression invented by contemporary youths. They never cover up their praise and accolades.
6.juejuezi 绝绝子
"juejuezi" is similar to "yyds."
7.anti-fraud 反诈
China has stepped up its efforts in fighting against fraud crimes. The police have gone to great lengths to educate the public about caution against fraud. Some policemen also came up with creative ideas on short video platforms to raise people's awareness. Some influencers on the internet also joined the campaign and called on their followers to keep away from fraud.
8. Tokyo 2020 Olympic Games 东京奥运会
The Tokyo Olympics finally opened on July 23, 2021 with a new motto:"Faster, Higher, Stronger – Together". China bagged 88 medals including 38 gold medals. Many athletes born from 2000 shone on the world stage, including Yang Qian (women's 10-metre air rifle champion), Guan Chenchen (women's balance beam champion), and Quan Hongchan (women's 10m platform champion). Besides, veteran athletes like Ma Long and Su Bingtian also performed amazingly in the Games.
9. aerospace 航天
2021 marks the 65th year since China began its aerospace cause in 1956. This year, the Tianwen 1 Mars probe successfully landed its lander and rover named Zhurong on the red planet, and the Tianhe core module cabin was launched. Then China's Shenzhou XIII crewed spacecraft docked with the Tiangong space station. China's aerospace cause is going forward step by step.
10. 100 Years of the CPC 建党百年
This year is the 100th anniversary of the founding of the Communist Party of China (CPC). On July 1, people on Kuaishou posted videos of them making embroidery, paper-cuttings, painting in rice fields, painting on Rubik's Cube, and singing a chorus, to show their love for the country. Many young people became followers of the historical TV drama "The Age of Awakening" (which narrates the story of how the CPC was founded in 1921).