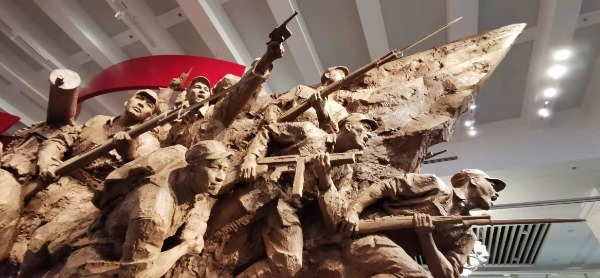 Situated in downtown Beijing, the Military Museum of the Chinese People's Revolution is like a treasure trove that has drawn numerous visitors to glimpse the country's military history.
Among the landmark complex's sizable collection, consisting of more than 180,000 objects, a German-made Mauser M1896 pistol is displayed in a conspicuous position.
Despite looking a bit old and obsolete with the outer coating fading, the firearm was once part of a pivotal moment of modern history. It was carried by Zhu De-one of China's greatest military leaders-during the Nanchang Uprising, the first major conflict led by the Communist Party to counter anti-communist purges by the Kuomintang, starting in the capital city of Jiangxi province on Aug 1, 1927.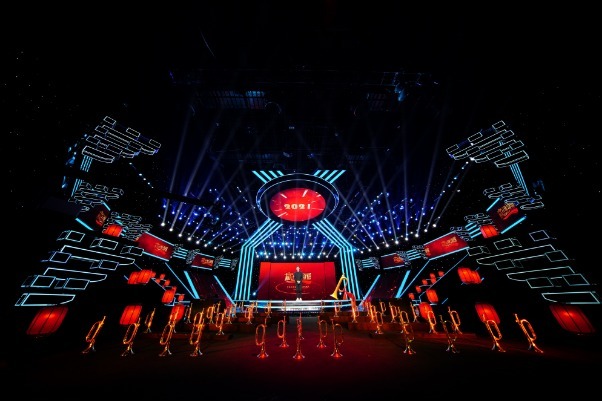 The stage of the show, decorated with a revolutionary flair.[Photo provided to China Daily]
Alongside a bunch of valuable historical relics, the pistol and the legendary stories behind it are featured in 2021 Win at the Museum, a TV show recently aired on CCTV-14, the country's flagship broadcaster for children and teenagers.
First launched in 2018, the annual show aims to expand and enrich youngsters' knowledge about China's history and culture through a series of tours to some of the country's most well-known museums.
Unlike the past three episodes, which explore ancient civilization, the fourth season spanning nine episodes travels to 11 museums, most of which are located in the Party's previous revolutionary bases such as Jinggangshan and Yan'an respectively in Jiangxi, Shaanxi provinces, or cities where once significant meetings were held, like Zunyi in Guizhou province and Shanghai.