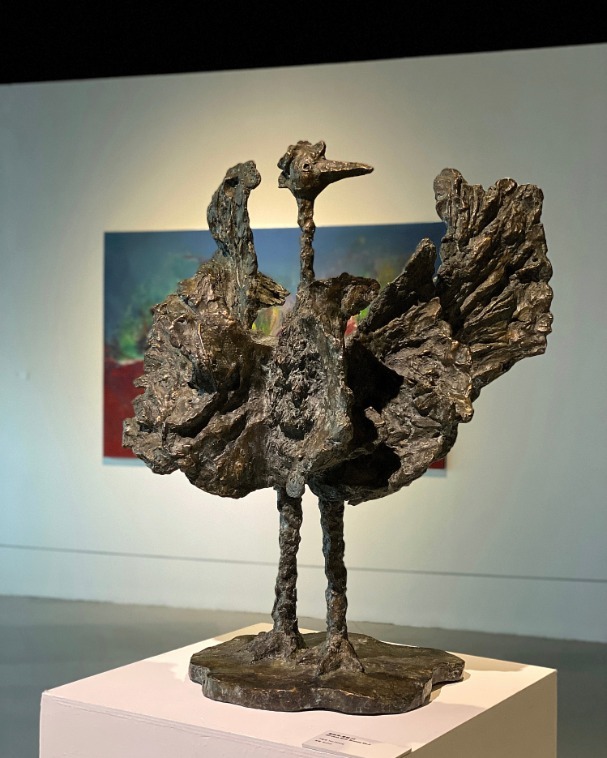 A new exhibition at the Museum of Contemporary Art Shanghai has brought together eight veteran artists to present a dynamic visual dialogue on diverse subjects of culture, science and the colorful world inside peoples' minds.
Where the Twilight Comes is the first exhibition MoCA Shanghai is holding in 2021.
"Like many people, we were wondering how we could tell a story about last year and articulate the thoughts in our minds these days. We are hoping to explore those complex feelings, strange but familiar, with our artists through unconventional ways," says Miriam Sun, director of the museum.
"We have invited eight artists from home and abroad to join the conversation, which includes paintings, sculptures, biotechnology, videos, photographs, installations and graffiti."
Stepping into the museum, visitors will first encounter Li Lei's installation, Ode to Mercy. Consisting of 300 ceramic mugs hanging from the ceiling with colorful ribbons, the work "symbolizes all the aspirations and hopes of people", says the artist. An abstract painter, Li used to be the director of the China Art Museum in Shanghai.
A few years ago, Li was invited by a friend to adapt his paintings on ceramic, and he instantly fell in love with the material. "Ceramic, which has great prominence in the Chinese culture, has developed a unique system of vocabulary, techniques and aesthetics," he says.
For the past few years, Li has been exploring new possibilities with ceramic, trying to create works that "address today's issues in contemporary life and speak to today's audiences".
"It's an exhibition of the springtime, and the curatorial team hoped to feature the exuberance and vitality of nature in the exhibition," says Yan Zhilong, an artist and professor with Shanghai Theater Academy.
Yan's artworks, which include more than 10 oil paintings and bronze sculptures featuring birds, are being showcased on the second floor of the museum.
"Birds are one of the first totems of China, dating back to the primitive period of Chinese civilization," he says. "In ancient China, people believed birds, or the phoenix in particular, could carry the souls of the dead to heaven. That's why we see so many bird images in ancient Chinese tombs."
The exhibition also features video works by filmmaker Cheng Yusi, installations by German artist Helga Griffiths, as well as Chen Yingjie's public-art project Gravity XLI, which subtly blends Chinese landscape painting with street art and graffiti on Nanchang Road.
If you go
10 am-6 pm, Monday-Sunday, through April 30. Museum of Contemporary Art Shanghai, People's Park Gate 7, No 231 Nanjing Road West, Huangpu district.