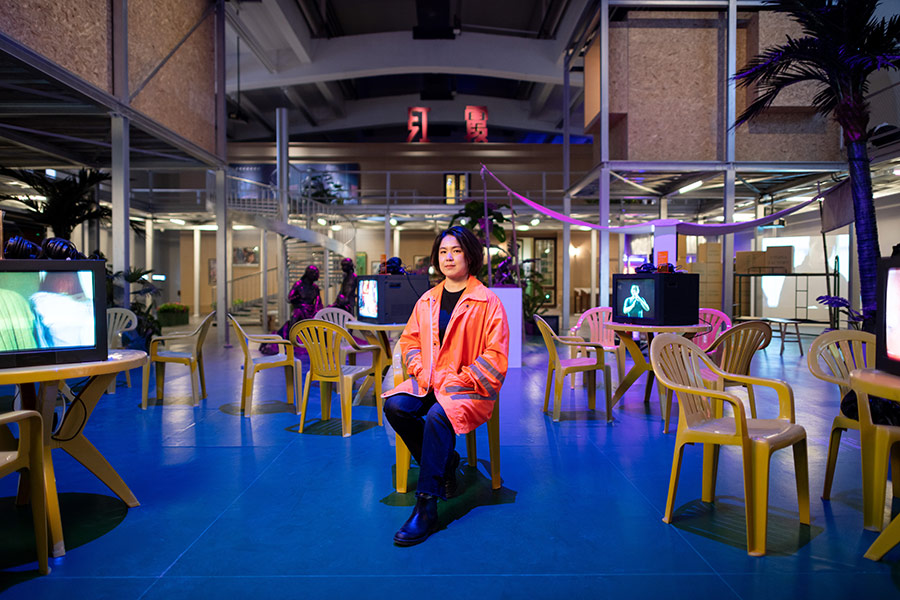 Artist uses universal language to tell intriguing stories of everyday life, Deng Zhangyu reports.
Walking through a two-story exhibition hall presenting multimedia artist Cao Fei's retrospective show is like time travel, where visitors can experience the changes that happened in China over the past 20 years.
In one area of the UCCA Center for Contemporary Art in Beijing, visitors watch people dancing to music popular in the 1990s. In another area, they can see factory workers playing the guitar or practicing tai chi at a busy assembly line. And if they turn around, they can see a robot following a girl around an automated warehouse.
Regarded as one of the most prominent contemporary artists in China, Cao is holding the exhibition Staging the Era, a retrospective of her career.
The spacious exhibition hall is filled with dozens of films, photos, installations and virtual reality works to create an immersive experience for visitors. The 43-year-old artist hopes to attract people from all walks of life if possible, as they are usually the subjects in Cao's lens.
"I hope people such as laborers, taxi drivers, and those who have never visited a museum come to my show. The show is a story about them," says the Beijing-based artist.