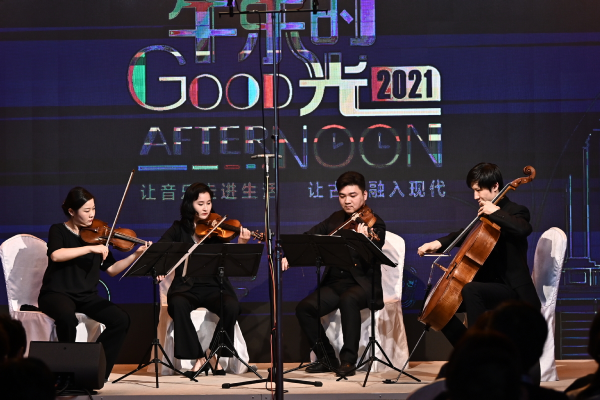 Amber Quartet, a Chinese string quartet consisting of cellist Yang Yichen, violinists Ning Fangliang and Su Yajing and violist Qi Wang, gave a concert at Beijing Fun near Qianmen, a popular commercial area in the capital's downtown area, on April 18.
With music by composers such as Mozart, Mendelssohn and Piazzolla, musicians also performed a piece adapted by Yang from Fiddler on the Roof,a musical composed by Jerry Bock. The new piece is titled Ode to Life, after the original's To Life (L'chaim).
Founded in Beijing in 2005, Amber Quartet is one of the most successful Chinese quartets and has won critical acclaim. In 2013, they won three awards at the Asia-Pacific Chamber Music Competition in Melbourne: the Grand Prize, the Dame Elisabeth Murdoch Prize and the Hamer-Tribe Trust Prize. They were the first Chinese quartet to win a string of three prizes at an international chamber music competition. All members of theAmber Quartetare now teachers at the Central Conservatory of Music.
The concert is part of the music project Good Afternoon, launched by Beijing Music Radio and Beijing Music Festival on April 18.
From April 18, live concerts featuring classical and traditional Chinese music will be staged at popular areas in the capital to attract audiences to live music outside concert halls and theaters.