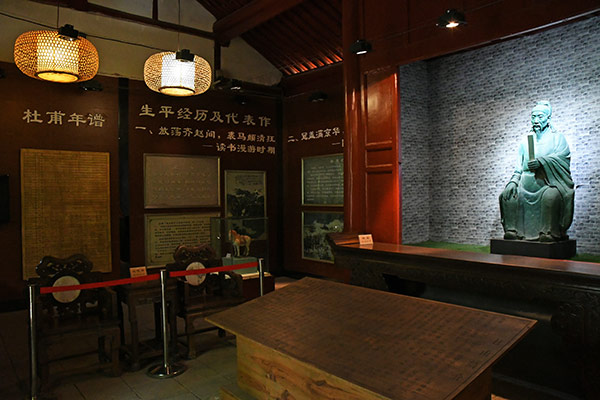 At least twice last year, Chinese social media was abuzz about the poetry of the Tang Dynasty (618-907).
The first instance was upon the release of the BBC documentary Du Fu: China's Greatest Poet in April; the second was when actress Meryl Streep recited Tang poet Wang Wei's iconic piece Lu Zhai (The Deer Enclosure) in Mandarin on a popular US talk show in December.
"Tang poetry is an invaluable gem of Chinese civilization and a treasure shared by all," says Wang Yongchao, a deputy to the National People's Congress, who has been calling for greater recognition of Xi'an, Shaanxi province, as the home of Tang poetry.
Shaanxi is where the ancient Tang capital of Chang'an was located, and rich Tang poetry resources have not been fully tapped in the spiritual home of the literary form-today's Xi'an-says Wang Yongchao, a native of the city.
The Tang Dynasty, an era of Chinese history characterized by economic prosperity and cultural inclusiveness spanning 289 years, is widely recognized as the heyday of classical Chinese literature. Around 50,000 poems by about 2,300 poets were recorded in the 18th century anthology Quan Tang Shi, or The Complete Tang Poems.
The Tang capital, Chang'an, a vibrant metropolis that beckoned the country's most inspiring minds and aspiring poets, provided fertile soil for the literary tradition to flower. Aside from poetry giants Du Fu and Wang Wei, many others, including Li Bai, Bai Juyi and Li Shangyin, worked and lived in the capital, creating a large number of immortal works.
"However, when people come from far and wide to Xi'an to pay tribute to their favorite Tang poets, they usually end up disappointed. There are few memorials or museums," says Wang Yongchao.
He cites the Du Fu Memorial Hall in Xi'an's Shaolingyuan, where the poet and his family lived, as an example.
Built in 1960 on the site of a 16th century temple commemorating the poet, the place is low-key compared with the Du Fu Thatched Cottage in Chengdu, Sichuan province.
To draw more attention to the deserving poet-historian, Wang Yongchao says the memorial in Shaolingyuan, which inspired Du to dub himself "countryman Shaoling", should be given a major facelift.
In the same vein, commemorative museums of other eminent Tang poets-especially Chang'an natives, such as Du Mu and Wei Yingwu-should be erected on the sites of their former residences or cemeteries, he says.
Accordingly, local authorities should develop and promote representative literary pilgrimage routes featuring memorials to Tang poets, including their residences and hometowns, which would allow poetry lovers to walk on the same ground and see the same sights that inspired such literary achievement, Wang Yongchao says, adding that Tang poetry-themed parks, too, should be built to help the public learn the literary form by osmosis.
He also suggests weaving Tang poetry into the city's public spaces, particularly historical sites and places of interest.
Many Tang poets penned their works in or around the Daming Palace, Xingqing Palace and the Goose Pagoda. Featuring those poems through visuals at the sites would enrich tourist experience and immerse visitors in the beauty of Tang poetry, Wang Yongchao says.
"Advancing the understanding of the city's literary evolution and its major creators is important," he notes. "The central government should sponsor the production of a documentary series aimed at Tang-poetry lovers both at home and abroad."
Revolving around the lives and creations of significant Tang poets, Wang Yongchao says, such a series could serve to highlight these splendid moments in Chinese civilization.