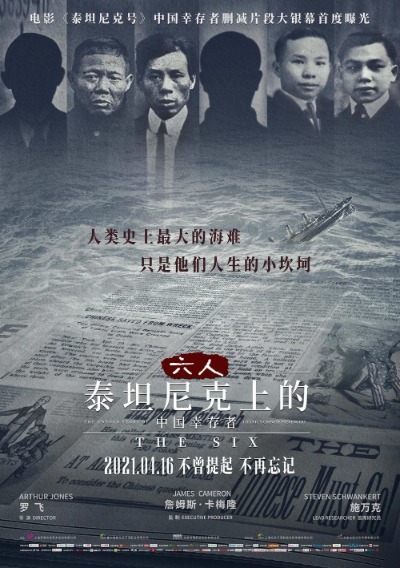 The scene where wealthy socialite Rose clings to a floating door after her beloved Jack dies in the freezing waters of the Atlantic is one of the most memorable scenes in the 1997 blockbuster Titanic.But what was previously unknown is that this scene was inspired by the true-life story of one of the six Chinese who survived the 1912 disaster.
It is this tidbit and other surprises that characterize the documentary The Six, a movie about the six Chinese men who survived the sinking of the purportedly unsinkable ocean liner. The documentary, which is currently playing in movie theaters around China, was the brainchild of an American in Beijing called Steven Schwankert, who is the chief researcher and co-creator of the documentary. He has also authored a book about that subject with the same name.
"Originally the idea for the story was mine," Schwankert told Xinhua in a recent exclusive interview. "While director Arthur Jones was unsure if there was anything new about 'Titanic' that could be discovered, after discussing the topic with Chinese friends, we agreed it was worth doing some research to see if there was enough material for a documentary and a book."
"The idea of bringing Titanic and China together in a meaningful way for the first time was too compelling to pass up. James Cameron's film Titanicwas such a big hit here that the chance for Chinese audiences to know that there were Chinese on the ship and learn their stories was a once in a lifetime opportunity," he said.
"We knew early on that James Cameron was aware of the Chinese men's story because he filmed a scene from Titanicof a Chinese man being rescued from the water. That scene was not included in the final film, but it was the inspiration for the Jack and Rose ending that so many fans know and love," Schwankert said, adding that it took him and his team about two years to get the famous director's attention and secure an interview.
Once they had Cameron on board as executive producer, Schwankert said, Cameron was very cooperative and helped them get permission to use footage from Titanicin the documentary. Cameron himself even appears in the documentary as a commentator.