A Sustainable Gastronomy Day 2021 celebration was held to commemorate the 50th anniversary of the establishment of the diplomatic relations between China and Nigeria, on June 18 in Abuja, Nigeria.
Li Xuda, cultural counsellor of the China embassy in Nigeria, congratulated the opening of the event. He said that all cultures and civilizations, including Chinese and Nigerian, are contributors to the world's sustainable development.
He said both nations have a long history and rich culture, sharing many similarities in lots of fields, including gastronomy.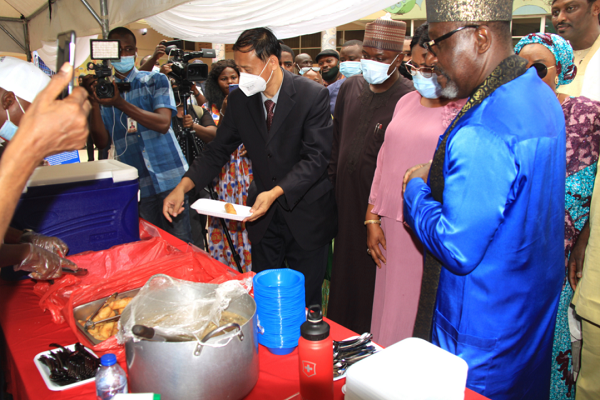 Chinese food attracts lots of local people at the event, June 18, 2021. [Photo by Wang Guiping/provided to Chinaculture.org]
The permanent secretary, Federal Ministry of Information and Culture, Ifeoma Anyanwutaku hailed the SGD initiative to connect people, planet and profit. She said in the global tourism industry, gastronomy has become a major tourist pull factor and largely defines some inherent attractions in a tourist destination.
"For us in Nigeria, culture is our competitive tourism advantage, most of which is identified by Nigerian cuisines and their methods of preparation," she said.
The cuisine of Nigeria has its roots in the 9,000-year-old African traditions. Each of 300 ethnic groups in the country has their unique cuisine, including spicy soups, seafood stews and traditional yams.
The event was hosted by the National Institute for Hospitality and Tourism, in collaboration with the Chinese embassy in Nigeria, Federal Capital Territory Administration, CCECC Nigeria Ltd and NTA-Star TV Network Ltd.