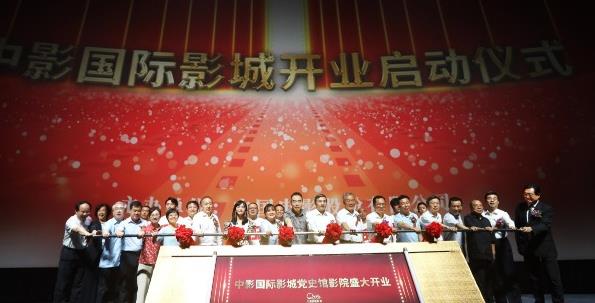 A cinema built as the supporting venue of the Museum of the Communist Party of China opened in Beijing on Saturday, setting two theaters for screening "red movies".
Located underground west of the museum, the China Film International Cineplex, also known as the CPC Museum's Cinema, covers an area of over 13,000 square meters.
The revolutionary epic, 1921, which tells the founding history of the CPC in the title year, was the first movie to be screened in the cinema.
The movie's major cast and crew, including director Huang Jianxin and actor Wang Renjun, as well as award-winning filmmakers Chen Kaige and Tian Zhuangzhuang, attended the opening ceremony on Saturday.
As a significant project to celebrate the 100th anniversary of the CPC's founding, the museum was inaugurated on June 18, displaying about 3,500 units of revolutionary relics and over 2,600 file photos.
During the 1,000-day planning and construction of the museum, China Film Co Ltd, the country's largest state-owned studio, was on board to build the cinema, which has been installed with state-of-the-art screening technologies.
With 21 theaters, the cinema has one CINITY giant screen, one 16-meter-wide LED screen, one 4D screen, and two CINITY standard screens.
Jiao Hongfen, chairman of China Film Co Ltd, said the theater will launch red-themed projects to release revolutionary and patriotic movies, as an attempt to draw more people, especially the young, to learn CPC history through acclaimed movies, stirring their national pride.