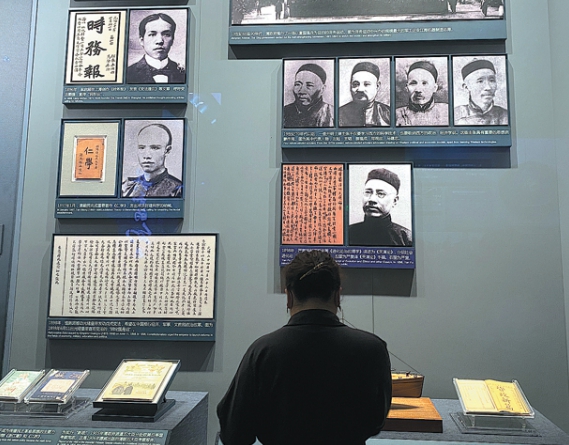 The new Memorial of the Site of the First National Congress of the Communist Party of China received more than 13,000 visitors per day since it opened to the public on June 3.
Located at the Xintiandi neighborhood in downtown Shanghai, the new hall is close to the original building where the first national congress of the CPC took place in 1921. The hall has an exhibition space of 3,700 square meters. Construction of the venue started in 2019. The venue comprises historical objects, photographs, scenic reproductions, video projections enhanced with augmented reality technology, and new artworks commissioned by the memorial hall that tell a vivid story about the founding of the CPC.
According to Hu Xiaoyun, head designer of the exhibition space, artists who were selected for the project were given detailed advice on the subject, style and colors they should work with.
Stepping into the site, visitors find themselves in a large lobby and surrounded by three ceramic paintings created by Dong Chunxin. The paintings were done on dozens of collaged ceramic boards that were created by the only kiln in China capable of creating such large boards. The rich colors of the paintings were then transcribed on the ceramic with the use of nanotechnology.
The largest piece, which has a width of 15 meters and a height of 5 meters, showcases five important CPC sites, including the shikumen house where the first national congress took place and the Tian'anmen rostrum where Chairman Mao Zedong announced the founding of the People's Republic of China. Two smaller paintings on the sides, each measuring 7 meters wide and 3.5 meters tall, feature the Yellow River and the Great Wall.