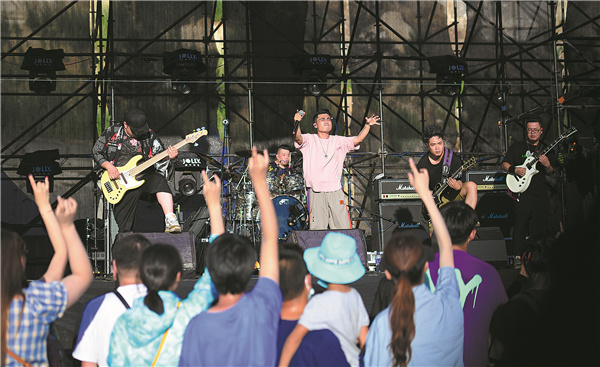 Thousands of music fans descended on Fuxin in Northeast China's Liaoning province on Saturday for a music festival in an ecologically restored open-cast mine.
It was the Strawberry Music Festival's first visit to Fuxin since it was first launched in 2009. It was also a fine opportunity to show off the versatility of the former coal mine, which once provided jobs to the local population.
The festival attracted an audience of nearly 20,000 people, with tickets sold out ahead of time, according to Modern Sky, a music company sponsoring the two-day event.
"I have never seen so many people swarming my hometown before," says Zhang Hao, a 34-year-old restaurateur who booked a booth near the entrance to sell inflatable sofas, straw hats and drinks.
The abandoned industrial site provided a spacious location for the music event. After years of ecological restoration, the open-cast mine, measuring more than eight soccer fields, was turned into a racetrack for top-level motor sports events, and it will soon host a military-themed carnival.
Wu Qiuqiu, a 32-year-old music enthusiast who attends music festivals all over the country, says he was impressed by the venue.