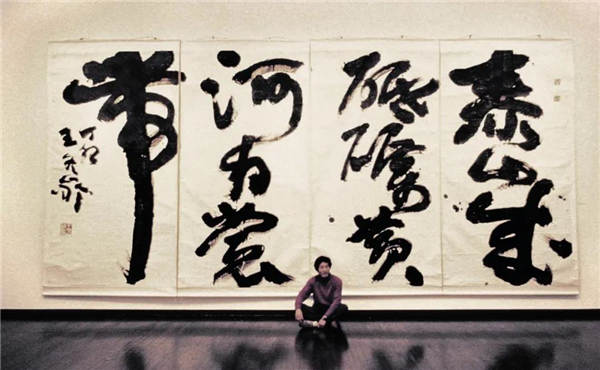 The exhibition "From Inception: Wang Dongling 60 Years of Calligraphy" opened at the Zhejiang Art Museum in Hangzhou on Oct 16, focusing on Wang's 60-year exploration of both traditional and modern style calligraphy.
"After six decades of exploration, Wang gave his answer to the future development of calligraphy in the context of the integration of East and West", said Chen Zhenlian, vice chairman of the China Federation of Literary and Art Circles. This exhibition also served as a milestone in the history of both Wang's solo exhibitions and Chinese calligraphy exhibitions as a whole, and it will last until Nov 14.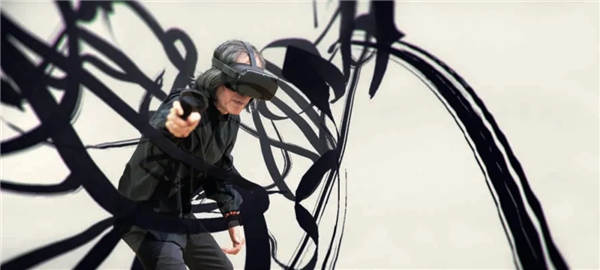 Wang Dongling creates "Enjoyment in Untroubled Ease" using VR technology. [Photo provided to chinadaily.com.cn]
Wang Dongling, born in 1945 in Rudong, Jiangsu province, graduated from the first calligraphy class of Zhejiang Academy of Arts (now China Academy of Art) in 1981 and now is a professor in the Calligraphy Department and Director of the Contemporary Calligraphy Research Centre of China Academy of Art. As one of the most highly-regarded and talented Chinese calligraphers with international reputation for years, Wang explores the fusion of tradition and modernity, east and west, abstract and concrete, art and life in his calligraphy works.
Wang has long been active in the creation of Chinese traditional calligraphy and the innovation of modern Chinese calligraphy as a calligrapher and an instructor. Since the 1990s, Wang began to conduct extensive and in-depth calligraphy experiments and started his creation journey of modern calligraphy.