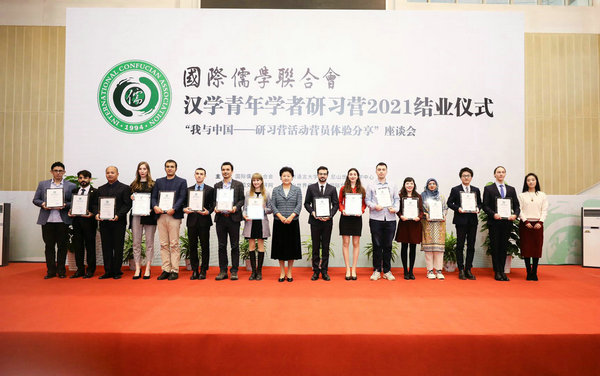 A Sinology camp for young scholars was held by the International Confucian Association, Beijing Language and Culture University and Nishan World Center for Confucian Studies in East China's Shandong province and Beijing on Oct 15-20.
Young scholars from 14 countries took part in the camp. They visited many places in Shandong, the hometown of Confucius, and joined discussions about Confucian, Sinology and cultural exchanges.
According to Nageh Mohamed Ibrahim Mohamed Taha from Egypt, "The camp made me gain a deeper understanding of the ancient and modern China. Just as the saying goes, 'A journey of a thousand miles begins with a single step', every seminar I participated in, and every place I visited, helped me further understand traditional Chinese culture and its system."
"The camp provided us with an international platform for communication, and I gained a lot of academic knowledge and energy. Sinology is of vital importance to me, and I will keep my original aspiration to promote the friendship between China and the Republic of Korea," said Sul Hee-jung from ROK.
Liu Yandong, president of ICA, said she hopes the young scholars will become knowledgeable Sinologists who have an in-depth understanding of the real side of China, and make more people get to know that.
She encouraged the members to become leaders of cross-cultural communication, practitioners of building friendship between China and foreign countries, promoters of win-win strategy in the world, and proponents of the common values of the mankind.