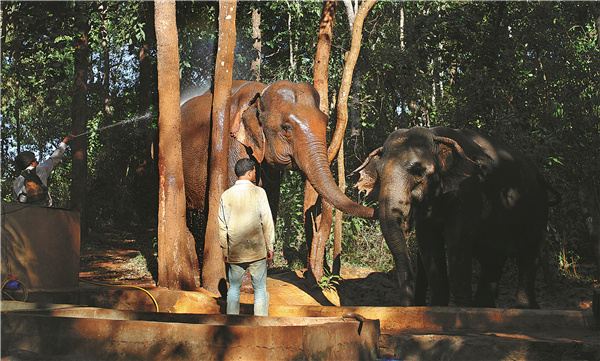 The story started with the killing of a 19-year-old elephant at the hands of poachers in Samburu National Reserve in northern Kenya in 2016.
Her two calves, in another part of the reserve, embarked on a perilous journey to mourn her. They were too young to deal with the lurking dangers in the wild without the protection of adults.
Based on that tragic, but inspiring true story, elephant lover Sun Xiao wrote a children's book Samburu, I'm Back. It was published last year and is a way for Sun to not just impart knowledge about the elephants themselves, but also raising public awareness about the urgent need to protect them from the scourge of poachers, who kill the majestic creatures for their ivory tusks.
This is "a lifelong career".
In the past decade, Sun has devoted himself to spreading knowledge of elephants to as many people as possible via all kinds of methods, such as posting hundreds of articles he wrote on social networks, sharing photos he took of elephants and writing children's storybooks featuring pachyderm protagonists.

Herds of elephants play in the water of a river that runs through the Samburu National Reserve in Kenya.[Photo provided to China Daily]
"Elephants are as complex as humans in terms of emotion. The more I learn about them, the more I love them," says the 30-year-old.
Sun is a witness to the story told in his book Samburu, I'm Back. He was, at the time, in Kenya working for Save the Elephants, a UK-registered charity based in Nairobi. When he and his peers found the two calves heading toward the dangerous area where their mother was killed, they tried in vain to change their course. Finally, they had to immobilize one of the calves by using a tranquilizer gun and transport it to an elephant sanctuary.
"Elephants are very emotional. They have lots of rituals to show their feelings and mourning is typical," says Sun.
Sun has received a great deal of positive feedback from his readers, mostly mothers, saying that their children cried and were moved by the emotional bond between the elephant calves and their mother.
Sun stayed in Kenya with the STE for three months to watch elephants closely for his research. Every day he would go to the wild to observe the elephants and take photos.