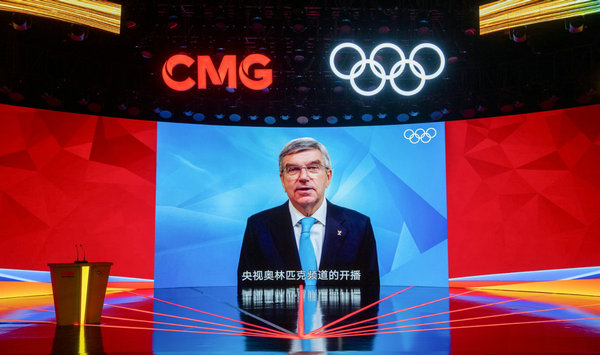 China Media Group - the country's largest broadcasting system - launched its Olympic Channel, known as CCTV-16, on Oct 25.
The channel, the world's first 4K ultra high-definition satellite TV sports channel, is the sole media platform licensed by the International Olympic Committee to use Olympic as part of its name and the iconic five interlocking rings. The group simultaneously launched the channel's digital platform.
IOC President Thomas Bach sent his congratulations on the launch of the Olympic Channel, calling it a "historic milestone" for Chinese Olympic fans to engage with their favorite sports, athletes and Olympic stories all year round, 24 hours a day.
"The launch comes at a perfect time, as Beijing prepares to write history as the first city ever to host both the summer and the winter editions of the Olympic Games," said Bach, adding the channel could "play a part in writing this next chapter in China's great sporting history".
Shen Haixiong, president and editor-in-chief of CMG, said the launch of the Olympic Channel and its digital platform is a significant effort to boost the construction of China as a sports power and enhance the group's capacity in international communication.