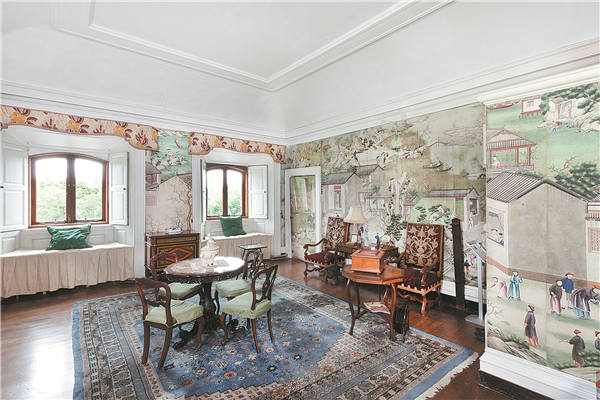 Hand-painted images central to Westport restoration project, Julian Shea reports in County Mayo, Ireland.
A spectacular room-covering Chinese artwork is undergoing restoration as one of the centerpieces of renovation in one of Ireland's most historic ancient houses.
The site of Westport House in County Mayo boasts a history dating to the 1500s, having been the home of legendary Irish pirate Grace O'Malley, who led rebellions against the English and was once regarded as the embodiment of the spirit of Irish independence.
The current house, whose founders were related to O'Malley by marriage, was built in 1730. After centuries as the seat of the Browne family, it has been owned since January 2017 by local businessmen the Hughes brothers, whose family firm Portwest sells outdoor clothing and work safety wear in more than 130 countries. Last year, they secured a government grant of 20.2 million euros ($21.2 million)-the largest given to a single project-toward a 75.5 million euros restoration plan to make the house and its gardens a tourist attraction at the heart of the local community.
One of Westport House's most famous features is the Chinese room, with 200-year-old hand-painted wallpaper covering the entire room as one continuous piece of art. As part of the restoration, the paper has been taken down to undergo treatment to return it to its full glory.