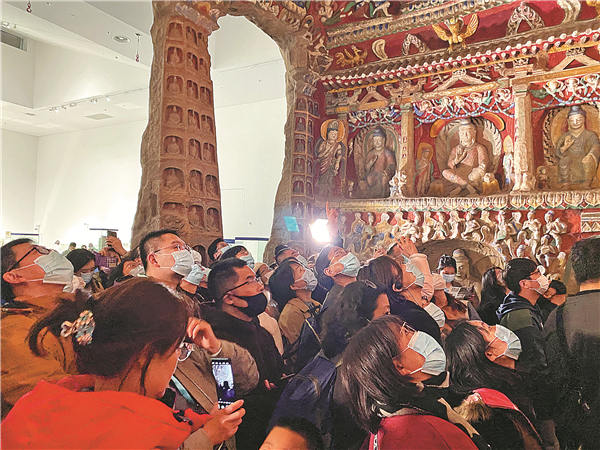 Experts and skilled workers applying scientific methods to protect treasure trove of Buddhist art
Preserving a historical and cultural heritage site that was created more than 1,500 years ago would be a challenge in any country, but China has fulfilled the task in the case of the Yungang Grottoes in Shanxi province, thanks to the efforts of researchers in recent decades.
Yungang Grottoes, located in the northern Shanxi city of Datong, is one of the three most famous Buddhist grottoes sites in China. The other two are Mogao Grottoes in Dunhuang, Gansu province, and Longmen Grottoes in Luoyang, Henan province.
Yungang Grottoes was built during the Northern Wei Dynasty (386-534), when Datong, which was then called Pingcheng, served as the nation's capital. The grottoes were carved out of sandstone cliffs at Wuzhou Mountain in the northwestern suburbs of Datong.
According to historical documents, a total of 54 main caves were carved out during the period from 460-524. Today, 45 main caves remain intact, which house more than 59,000 statues, ranging from a few centimeters to 17 meters in height.
Yungang Grottoes was added to the UNESCO World Cultural Heritage list in 2001. UNESCO said in a document that the site has a universal value as it represents "the outstanding achievements of Buddhist cave art in China".
While influenced by Buddhist cave art from South and Central Asia, UNESCO said Yungang Grottoes interprets Buddhist art with a Chinese characteristic and local spirit. "As a result, Yungang Grottoes has played a vitally important role among early Oriental Buddhist grottoes and had a far-reaching impact on Buddhist cave art in China and East Asia."
While proud of its increasing recognition in global academic circles, the local authorities and researchers understand that, after Yungang Grottoes having been battered by wind, rain and snow for over 1,500 years, protecting this precious cultural heritage site has become a pressing challenge.
Initial preservation work on the grottoes started in the 1930s and systematic protection has been made since the founding of the People's Republic of China in 1949.
Efforts in protection have been enhanced since the establishment of Yungang Grottoes Academy in February 2021.
"Yungang Grottoes Academy was launched on the basis of the former Datong Institution for the Preservation of Yungang Grottoes," said Zhang Zhuo, head of the academy. "Cultural heritage protection is a major task of Yungang Grottoes Academy."
Over the past decade, the Datong Institution for the Preservation of Yungang Grottoes launched a number of programs to protect the site.
One effort was a collaboration with Getty Conservation Institute based in the United States. In Yungang, collaborative activities included environmental monitoring to assess the extent and effect of weathering due to pollution, wind, rain and extreme temperatures. They also developed a comprehensive conservation plan to prevent deterioration caused by visitors and the environment, according to Zhang.
Now boasting a number of expert researchers and devoted preservation workers, the academy is in a better position to maintain the authenticity of the grottoes with more scientific and systematic measures.
Zhang Juncai is one such dedicated preservation worker. He has been engaged in the repair of relics in Yungang for more than 10 years.
"Repairing relics requires long-term concentration, as work on some sections of relics can take several years to finish," Zhang Juncai said.
The skilled craftsman is now an instructor of a dozen apprentices. "With the steady growth of our repairers' team and the application of the latest technologies, we are confident that we can make a greater contribution to relics preservation," Zhang Juncai said.
Yan Hongbin, head of the academy's studio for relics preservation and repair, is one of the expert researchers in cultural heritage protection.
He and his team have proposed a number of solutions for preservation with the use of new technologies. One solution is to apply nanomaterial coatings on the walls of the caves to prevent them from being eroded by wind and water.
"The use of such new materials means a fundamental solution to the problem of water erosion that had threatened the relics for centuries," Yan said. He added that the cave-wall-strengthening project, which has been implemented for more than six decades, will be completed in one or two years.
"After the completion of these two milestone projects (for water erosion prevention and cave wall enhancement), we will focus our energy on repairing small damages to the relics."
In addition to relics preservation, academy chief Zhang Zhuo said the latest technology will be used to improve visitors' experience.
The academy operates a number of museums and galleries, allowing visitors to explore the grottoes' history and hidden details with the assistance of digital, virtual and augmented reality technologies, as well as replicas made with 3D-printing technologies.
Wang Rui, a tourist who visited the Yungang Grottoes Museum recently, said the digital displays at the museum offer a better experience than the caves themselves.
"We can have a close look at every detail of the caves-the statues and the decorations. It is impossible for you to see these in the real caves," Wang said. "And we are told the history and stories behind every detail. This is something you cannot expect from any tour guide."
According to Zhang Zhuo, the Yungang Grottoes Academy has held online exhibitions for audiences from across the country and the world, allowing them to visit this world heritage site from their homes.
Li Shu contributed to this story.