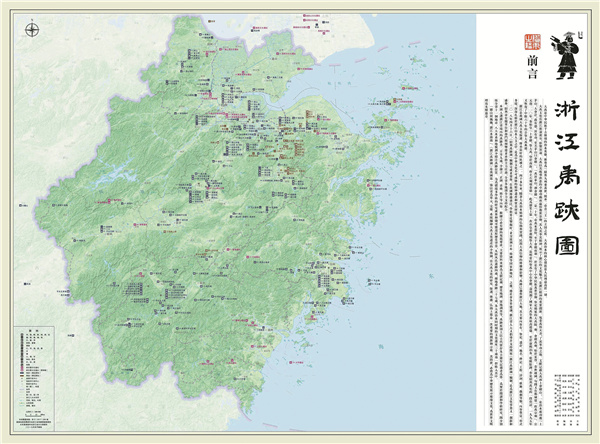 In China, Dayu, or Yu the Great, is a household name and a character who figures prominently in the origin of Chinese civilization. He is credited with establishing the Xia Dynasty (c. 21st century-16th century BC), the start of China's dynastic rule. Even some toddlers can vividly tell his heroics of controlling the primordial floods that had once ravaged the lands.
Indeed, it is often said in historical records that "Around the Nine Regions, traces of Yu can be found everywhere, and temples commemorating Yu can be seen everywhere". Nine Regions is a term generally found in ancient Chinese history referring to Chinese territories and has since taken on the meaning of China.
Now, with the publication of a map and its accompanying materials, including a book of copious notes and photos, a fuller picture of Yu's achievements is available, one that gives a deeper insight into his legacy.
The map, covering 26 provinces, autonomous regions and municipalities, which is titled Zhongguo Yuji Tu (Map of Traces of Yu in China), documents 323 of more than 1,000 Yuji, or traces of Yu, across the country.
"It is by no means a simple list," says Qiu Zhirong, one of the chief editors of the map and deputy head of the Water History Committee of the Chinese Hydraulic Engineering Society. "Rather, it is a serious academic exploration of a major Chinese historical and cultural phenomenon."
First, Yuji, or traces of Yu, have been clearly defined. They include sacrificial activities, memorial buildings, inscriptions, ruins, historical records of his stories and folk tales, as well as place names and a few movable relics and intangible cultural heritage, among others, that are based on Yu's flood control and have survived to this day, researchers who have compiled the map say.
"Each entry has been rigorously selected," Qiu says. "Many scholars have started to visit and conduct field investigation on the 'traces of Yu' since the early 1990s, and their research has laid a solid foundation for the publication of the current map."
Using the map and supporting documents, readers can readily pinpoint the location of each point of Yuji and find out its name, category, origin, current status and in which historical documents it was first recorded.