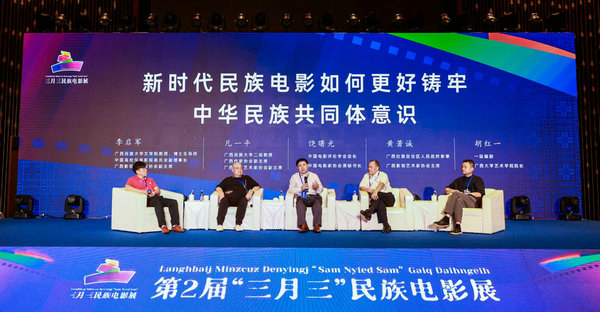 The second San Yue San Ethnic Groups Film Exhibition, an event held to raise recognition for Chinese ethnic group-themed movies, ended on Sunday in Nanning, Guangxi Zhuang autonomous region.
A total of 10 films shortlisted from over 300 titles from nine provinces and regions were screened during the exhibition, providing a chance to examine Chinese filmmakers' new achievements of retelling ethnic group stories since the 18th National Congress of the Communist Party of China in 2012.
Over recent years, Guangxi in Southwest China, home to more than 10 ethnic groups, has produced some quality movies about multiple ethnic groups, including Deep in the Clouds, The Gilt of Life, and Spring Returns to My Homeland.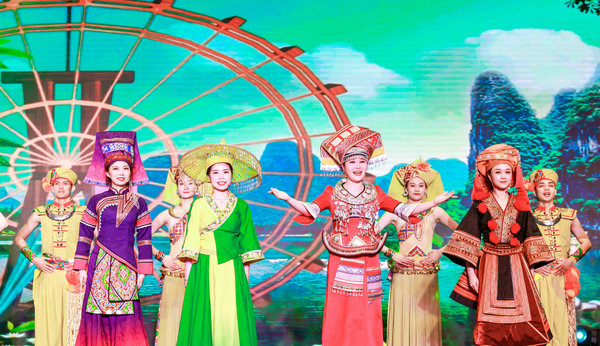 The 2nd San Yue San Ethnic Groups Film Exhibition ended on July 3. [Photo provided to China Daily]
Cui Zuojun, head of Guangxi's Film Administration, said movies about ethnic groups are "a treasure in Chinese cinema's gallery", adding that such artistic creations have entered a golden era, exemplified by more and more such movies created and theatrically released in recent years.
Rao Shuguang, president of China Film Critics Association, said the acclaimed movies not only showcase the rich cultures and customs of ethnic minorities but also reflect their transforming lifestyle in the new era.
Marking a highlight of the exhibition, a special section was set to demonstrate some intangible cultural heritages of the ethnic minorities ranging from ethnic Zhuang women's weaving craftsmanship to distinctive local products.