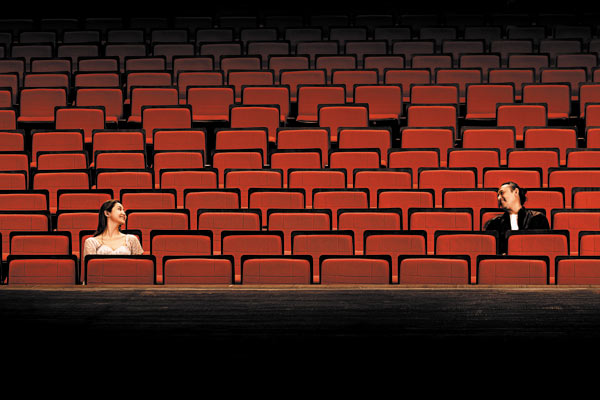 Composer of many hits embraces musicals as he stages a return, Chen Nan reports.
San Bao used to be synonymous with the music of Chinese movies and TV dramas. The composer has written soundtracks for top Chinese filmmakers, such as Feng Xiaogang's movie Be There or Be Square in 1998 and Zhang Yimou's movie The Road Home in 1999, as well as some of the highest-rated TV dramas, such as Love Story in Shanghai directed by Zhao Baogang in 2001 and The Story of a Noble Family directed by Li Dawei in 2003.
But despite a life of acclaim from critics and fans, he switched his focus to composing songs for original Chinese musicals. Since 1998, San Bao has been devoted to the art form.
This month, the composer will have concerts-Shanghai on Friday and Saturday, and Beijing on July 27 and 28-featuring songs he composed for nine Chinese musicals during the past two decades.
"Creating music is what makes me happy. The decision I made (about shifting away from composing for movies and TV dramas) might seem odd to some people because it once brought me fame and a decent income, but everyone is different and for me this (writing songs for musicals) is the thing I want to do," says San Bao. "I can only focus on one thing. Once I decided not to compose for movies and TV dramas anymore, I just stopped."
When the 54-year-old composer appeared recently in a studio in Beijing, he said that he had long been away from the limelight and hadn't done interviews for years.
"It feels like reviewing my own life during the past two decades. It's very personal and emotional," he says.