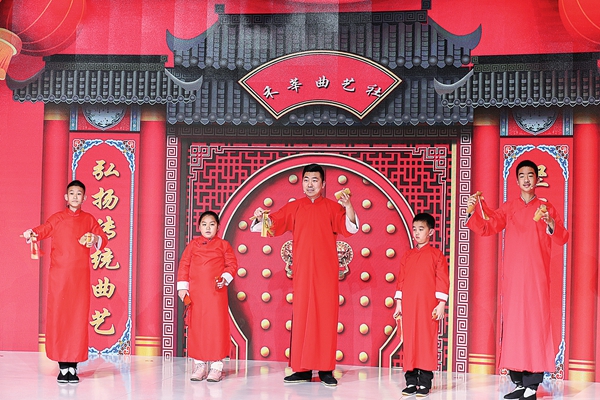 A Shandong music teacher is mixing traditional compositions with modern techniques to popularize the folk art of clapper talk among youngsters, Zhang Lei reports.
A classroom packed with chatty first-graders at Quanxin primary school in Jinan, East China's Shandong province, hits pin-drop silence as a teacher walks in. His gown and mandarin-collared jacket project a serious demeanor until he fishes out a pair of clappers from his bag and breaks into a rhythmic caper to accompany his narrative singing. The children beam with joy and burst into peals of laughter.
Meet Liu Yawei, a clapper talk performer who is doing his bit to keep the traditional Chinese percussion instrument made of bamboo from sinking into oblivion. Clapper talk is one type of quyi, a general name of all the Chinese folk art forms of narrating stories in the form of storytelling and singing. Besides clapper talks, there are other types such as ballad singing, storytelling and cross-talk.
Liu, 34, has been showered with many titles, including Shandong province's "upward and kindhearted youth". In the eyes of his friends, he wears many hats: He is a music teacher and a TV host. However, the identity Liu cherishes the most is being the "representative inheritor" of Wang clapper talk, one of the three major schools of the art form.