The rising trend of drawing fashionable patterns on parking spaces not only pleases car owners, but also brings new opportunities for painters.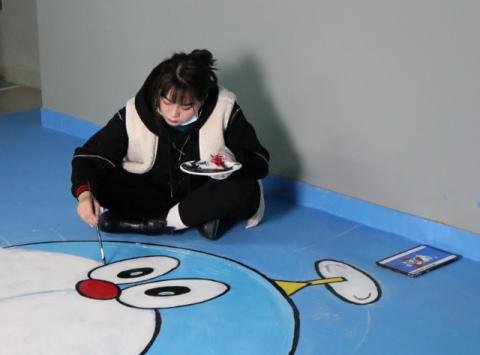 Beijing Qinglai Media Company, the fourth company in China engaged in painting parking spaces, has finished more than 240 artworks since it was established five months ago. Most of its customers are in Beijing's Daxing and Tongzhou district.
Wang Yuru, a graduate majored in oil painting in the Central Academy of Fine Arts, started to do parking space painting last September when she joined the company. She is now one of the few female painters in the industry. With great interest, she paints for two or three customers on average each week.
Before this Spring Festival, she accepted an order to paint for a parking space with an area twice the general one. Since the working load was double, she had to stay all day in the chilly garage with thick cotton clothes as well as heating pads on. After almost five hours' work, a Doraemon superman image was completed, illuminating the bleak parking lot.
For Wang, the only problem with this job is that clothes get dirty easily, but because of her interest and the salary, she is quite satisfied.
For Yu Yang, CEO of the company, continuous orders indicate that parking space painting is of great potential."The consumer group is usually those between 35 and 40 years old, with certain economic strength and distinct personalities," said Yu.