Ahead of the 2021 China Flower Expo, a set of limited-edition products have been released by Guangming Dairy Company: more than 30 varieties of flower-themed and shaped yogurts, pastries and ice creams.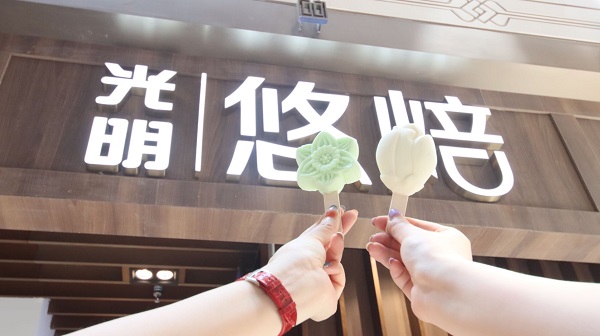 It is the first time in history that Guangming Dairy has launched special shaped ice cream. A milk sweet-scented osmanthus flavor ice cream adopts the shape of magnolia, the city flower of Shanghai. Imported milk powder blended with sweet-scented osmanthus fills the mouth with a floral milky fragrance. The mint white chocolate flavor ice cream is in the shape of a Chongming daffodil and is made from imported milk powder with mint leaves and white chocolate ingredients.
According to Ma Zhongyuan from the Guangming Dairy Research Institute, the biggest difficulty in research was the shape. Most of the 3D printed ice creams in the market are handmade, using a soft mold to form the shape. However, to ensure the supply of the limited ice creams during the Expo, automatic equipment must be used for continuous production. For this reason, the company's R&D personnel especially went to its cooperating factory to transform and polish the mold in person.
During the expo, which is to last from May 21 to July 2, cold drink carts will roam the park selling the tailored products. Meanwhile, customers not at the expo can also place orders on Guangming's online platform and enjoy coupons given amid the consumption-boosting May 5th Shopping Festival.