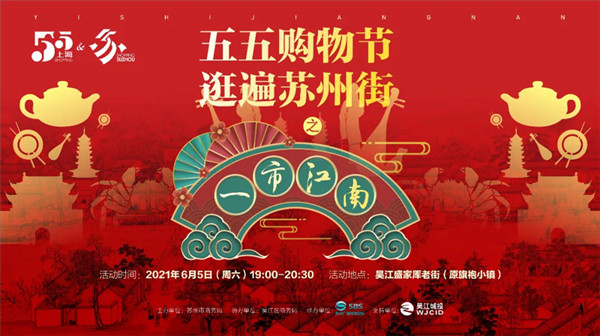 After a busy week, are you looking for a nice place to relax for yourself and your family these summer weekends? If you don't have a specific plan or idea yet, you may consider going to Shengjiashe old street, which is located in Wujiang District of Suzhou, to listen to the folk music, eat lobster, drink beer, enjoy the intangible cultural heritage and experience the charm of a different kind of cultural tourism in Suzhou up close.
Shengjiashe old street is historically famous in Wujiang District. It was once the busiest part of Wujiang District's urban area and held the sentiments of old Wujiang people. A series of thematic activities will be held on Shengjiashe old street as an important part of "55 Shopping Festival-Happy Shopping in Wujiang". From June 11 to July 23, the Summer Lobster and Beer Festival will be held on Shengjiashe old street. On June 18-19, a cultural and creative handicraft market will also be held on the old street. Craftsmen from the Jiangnan area will showcase legendary masterpieces such as Suzhou style ceramics, Suzhou style round silk fans and Suzhou style embroidery works to citizens and visitors.
From April 30 to June 30, Suzhou has joined hands with Shanghai to hold the "55 Shopping Festival". Five key activities and 16 special events have been launched so far since the official launch of "55 Shopping Festival-Happy Shopping in Wujiang". Next, a series of activities will be held including "Special Food Festival in the demonstration area of the Yangtze River Delta","Jiangnan Silk Culture and Tourism Festival" and "2021 Shengze Fashion Week".