A group of foreigners in Shanghai visited the Memorial for the Site of the First National Congress of the Communist Party of China on June 29, learning the Chinese history of how the Party was founded and how it has been leading the Chinese people to a better life.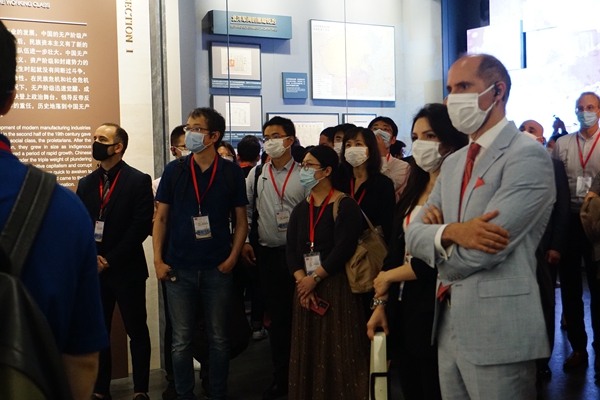 (Foreigners visit the memorial)
The newly opened hall of the memorial witnessed the groundbreaking event of the founding of the Party and aims to express the CPC's devotion to the rejuvenation of China and the happiness of the Chinese people. Marveling at the remarkable history, foreigners took photos and videos of the precious historical materials and shared them on their Wechat Moments.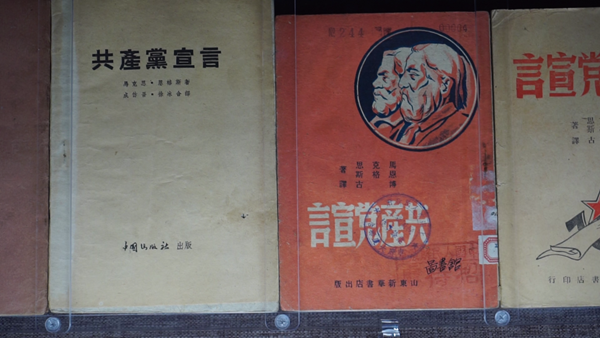 (An exhibit The Communist Manifesto)
Javier Gimeno, senior vice president of French multinational company Saint-Gobain Group, recorded a long piece of a video showing the Founding Ceremony of the PRC. He said without the strong leadership of the CPC over the past 100 years, perhaps we would not have such a good life today. In his view, the CPC has changed the course of the world. "I have been in China for more than 8 years, and I have always seen a very positive revolution in Chinese society and China's economy," said Gimeno.
At a dialogue in Xintiandi where all the participants shared their ideas after the visit, Kamran Vossoughi, president and CEO of Michelin China, said, "Yesterday before coming here, I asked myself a question: how a political party of a government can last for a hundred years? Today through the exhibition, I have found the answer." In his words, the CPC's achievements impressed him in three points, namely the original aspiration, the mission, and the capacity to adapt.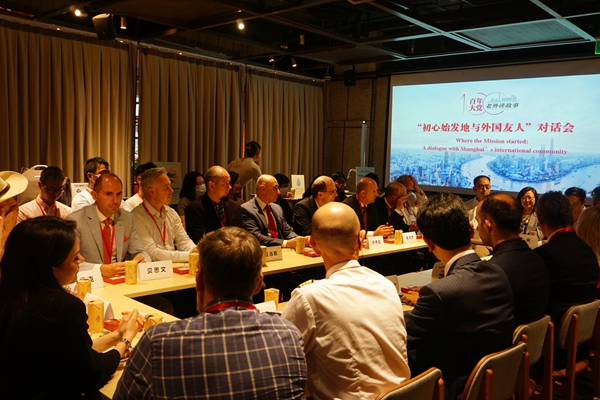 (The dialogue after the visit)
An exhibition centered on Premier Zhou Enlai's important diplomatic collections debuted on the same day in the memorial. The foreign visitors, as the first batch of viewers, were quite interested in the clothes and daily necessities of Zhou in his participation in international conferences.
According to Zhang Yuhan, research librarian of the memorial, two pieces of clothing -- a trench coat and a Chinese tunic suit – are key materials of the exhibition, as Premier Zhou, the banner figure of New China's diplomatic occasions, wore them to the Geneva Conference and the Bandung Conference after the founding of New China.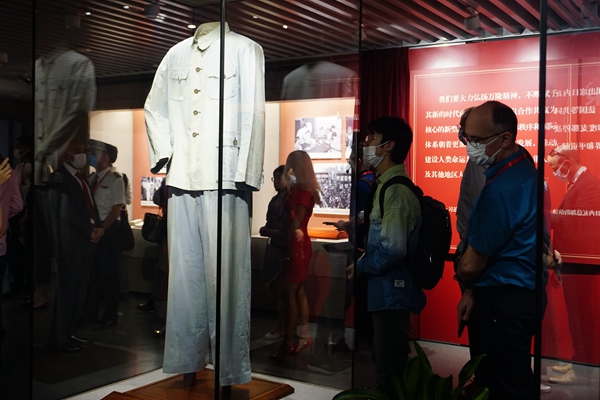 (The Chinese tunic suit Premier Zhou wore when he participated in the Bandung Conference)
Lingering in front of a picture showing the group photo of Premier Zhou and global leaders in the Bandung Conference, Gerd Knaust, general manager of Kunlun Jing An hotel, praised the visiting event, "It's very easy to follow. Kids of 6 or 7 years old will easily get the idea of where China has come from and why it has 5,000 years' history."