In an alley near a hospital in Nanchang, capital of east China's Jiangxi Province, there is a public kitchen stall that has made thousands of patients' lives easier. Allowing cancer patients' family members to cook homemade dishes for them, the kitchen has brought love and warmth to countless sick people in their last days of life. The couple operating the kitchen has been voted among this year's "top ten Chinese inspiring China".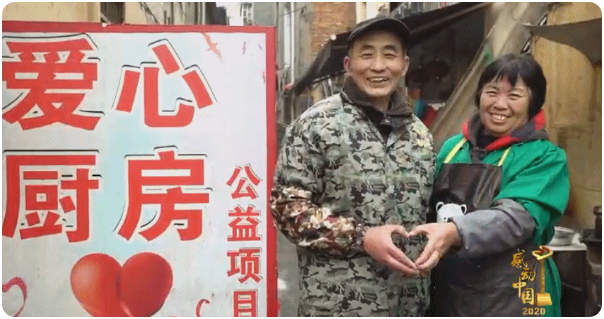 Wan Zuocheng and Xiong Gengxiang is the honored couple. In 2003 when they were selling fried dough sticks near Jiangxi Cancer Hospital, a young couple with their sick son came to their stall seeking to use their stove fire to cook a meal for the son. Feeling sympathy for the child, the couple agreed without hesitation.

Since then, more and more people came to know the place that provides a free stove fire for cooking. At first, each day a dozen or so people came to use the stove, but later a hundred. To ease their embarrassment, the couple finally agreed to charge 0.5 yuan for each dish. It wasn't until 2016 that the fee got to be 1 yuan.
"Nutritious meals are especially important for the sick, and for the patients' carers, cooking for their sick relatives brings them comfort," said the wife who has seen so many carers weeping while cooking.
The fee only allows the couple to make ends meet, and what has made the couple even more determined to keep running the kitchen was a lady's words."A lady told me that this kitchen is so great. Her mom died early in her 50s and she was quite sorry for not having such a kitchen to cook for her when she was in hospital. Her words touched me a lot and gave me determination," said Wan, the husband.
Over the past 17 years, the couple has altogether served more than 10,000 people each year with clean pots and a burning fire. Although they are now almost in their 70s, they still get up at 4 o'clock each day to light a fire of the stoves. For them, the public kitchen is not only a place for myriad common people to cook for their sick family members, but also a place for lighting a fire of hope.