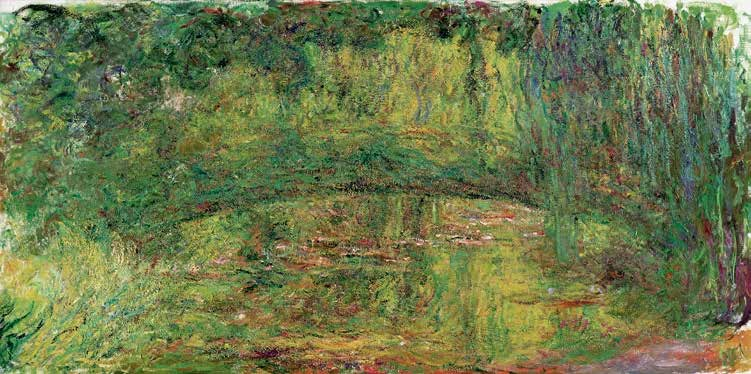 «©MuséeMarmottanMonet,
Académiedesbeaux-arts,Paris»
The pool installed by Monet in 1893 was changed several times. The construction of a Japanese bridge with a trellis dates from 1895 and gave rise to a first series of paintings. Taking inspiration from the Japanese prints that he collected, he progressively added the decoration of the bridge, which was draped with wisteria, and added several smaller bridges around which he planted a weeping willow and bamboo,whose reflections blended with those of the leaves and flowers of the water lilies spreading over the surface of the pond. From 1918 to 1924, Monet painted the Japanese Bridge inoverascore ofcanvases. The lines began to merge and the colours became brighter as his vision was deformed by ophthalmic problems.
The version exhibited here belongs to a set of three panels dating from 1918. All the elements of the Japanese Bridge and its surroundings are visible, except for the upper part of the trellis from which the mauve wisteria hung.