The total planned area of the Expo Park is nearly 10 square kilometers, of which the fenced area is 5.89 square kilometers and the non-fenced area is 3.75 square kilometers.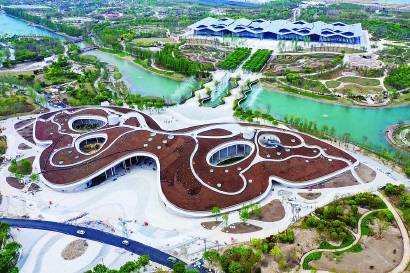 The fencedarea of the Flower Expo Park is dividedinto the South Park and the North Park. The South Park was upgraded and transformed from Dongping National Forest Park, with an exhibition area of 2.72 square kilometers. The North Garden exhibition area covers an area of about 3.17 square kilometers, and has 6 exhibition halls. The permanent exhibition halls are Fuxing Hall, Century Hall, and the Bamboo and Rattan Hall. The temporary exhibition halls are Flower Art Hall, Baihua Hall and Huaqi Hall.
In terms of public greening and wood planting in the park, more than 30,000 container seedlings and 30,000 ground-planted seedlings have been planted. In terms of undergrowth planting, 160,000 square meters of seeds have been planted, accounting for 93% of the total tasks. 310,000 square meters of ground covers have been planted, accounting for 89% of the total tasks. 270,000 square meters of lawns have been planted, accounting for 77% of the total tasks.Therefore, much as has been done but organisers and workers will be working flat out to make sure the Expo is fully finishedby the opening date.