To seize business opportunities in the post-pandemic era, Suzhou plans to initiate a May 5 Shopping Festival similar to Shanghai's one.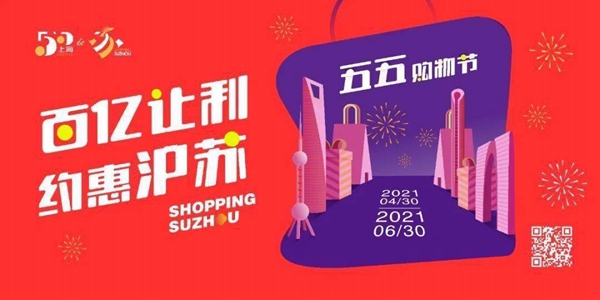 As part of Shanghai's push to spur domestic spending and enrich consumption patterns, the first May 5 Shopping Festival was launched last year in the immediate aftermath of the COVID-19 pandemic. This second edition will feature new product launches, nightlife marketplaces and a number of online-to-offline shopping initiatives.
The opening ceremony of the Suzhou shopping festival will be held on May 1, with a gala promoting Suzhou characterized products and implementing discounts. Physical and online stores will carry out big sales promotion, while real estate products will be exposed via a 4-hour live streaming sales promotion.
Activities like food exhibitions, gourmet voting and gourmet themed travel around Taihu Lake will be jointly held by Suzhou and Shanghai to promote Suzhou snacks. Travel products like those themed on Suzhou and Shanghai ancient towns will be developed and coupons will be given out to boost travel. Old brands expositions and displaying of intangible cultural heritage like Su embroidery, pingtan and Kunqu Opera are all scheduled to be seen. A sales promotion will also be held for imported products from Japan, South Korea, New Zealand, Britain, France and Thailand.
Covering several key time points like Labor Day, Youth Day, Mother's Day, Children's Day, Dragon Boat Festival and Father's Day, the 2-month event is expected to become a shopping spree to compare with Shanghai's.