A video about making homemade potato chips received 208,000 likes in just three days after being posted on TikTok. In the comment section, users left messages expressing their love for Chinese food and their admiration for foodmaker's excellent cooking skills. It is observed that the hashtag #Chinesefood has gained rising popularity on TikTok, and the related videos have accumulated 1.6 billion views.
Foodies from around the world are also joining the craze of creating Chinese food. TikTok user @tiffycooks is a food content creator active on TikTok, where she constantly tries to make international cuisine in her videos. In February, she posted a food special to "Celebrate Lunar New Year" on TikTok, teaching people how to make steamed fish, longevity noodles, and pork dumplings with garlic chives. In just three videos, she received more than 110,000 likes. In addition to the wonderful food teaching, @tiffycooks also introduces the positive meanings behind each Chinese food at the beginning of the video, such as "Eat longevity noodles which symbolize good health and a long life!" "Make steamed fish which brings you an abundance of wealth in the New Year!"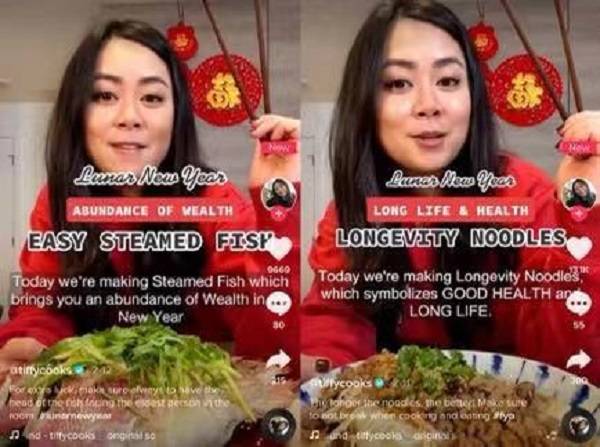 TikTok user @tiffycooks shares Chinese New Year food (Source: Provided by interviewee)
In addition, under the hashtag #Chinesefood, there are also a lot of video reviews of overseas Chinese snacks and fast food. Unlike traditional food instructional videos, these videos are often even more lively. Many of the snacks which Chinese kids eat in their childhood have attracted young Gen-Yers who like to discover new things on TikTok, such as jelly, popsicles and candies. TikTok user @cringecarter is one of those fans of Chinese snacks, "These candies from China are more delicious and interesting than I expected!" said @cringecarter.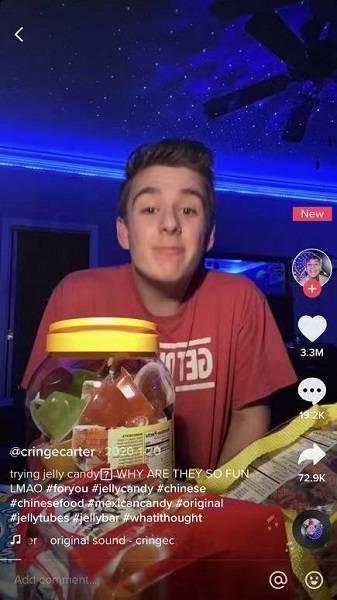 TikTok user @cringecarter recommends Chinese snacks for everyone (Source: Provided by interviewee)
The account @fakefoodshow released a video series called "My Chinese grandfather tastes Chinese food in Trader Joe's". In the videos, the grandfather tries each type of Chinese fast-food product in the American supermarket. Sometimes he is amazed by the authentic taste, and at other times he laments about the food which is made with local ingredients. Such kinds of evaluation videos make overseas people easily understand Chinese food.