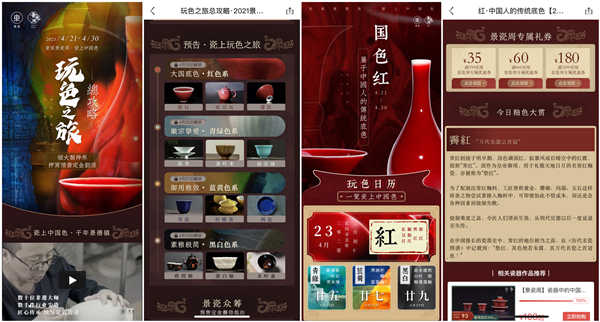 (Event pages of Jingdezhen Porcelain Week on "Dongjia"app)
"Small cups are paired with rock tea and large bowls are paired with Pu'er tea". A nice cup of tea needs a suitable tea set. Recently, a small replica of the blue and white porcelain cup has been sold for RMB 125,000 at a collector-grade porcelain auction during the Jingdezhen Porcelain Week on the "Dongjia" app. Jingdezhen is a city in Jiangxi Province, which is also a leading porcelain-manufacturing centre in China.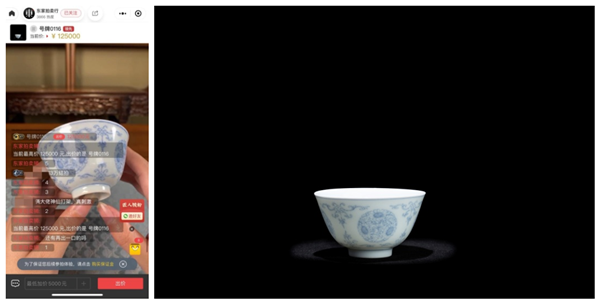 (Awork by Jiang Xin, an artisanfrom"Dongjia"app)
This blue and white porcelain cup is made by Jiang Xin, who is also the founder of brand "Wan Yu". She became one of the first artisans to settle in the Dongjia app in 2017. She believes that live streaming not only shortens the distance between products and users, but also accelerates product iteration, making artisans quicker to know what users like and need.
Jingdezhen Porcelain Week is held from April 21-30, and is aimed at guarding the "ingenuity" of the porcelain industry. After years of industry cultivation, tens of thousands of excellent craftsmen have gathered on this app.
"This activity brings not only collector-grade porcelain works as intangible cultural heritage made by masters, but also outstanding porcelain masterpieces directly supplied by Jingdezhen and sourced at moderate prices. We hope to bring users cost-effective works that represent the skill level of craftsmen in Jingdezhen", said the person who in charge of the "Dongjia"app.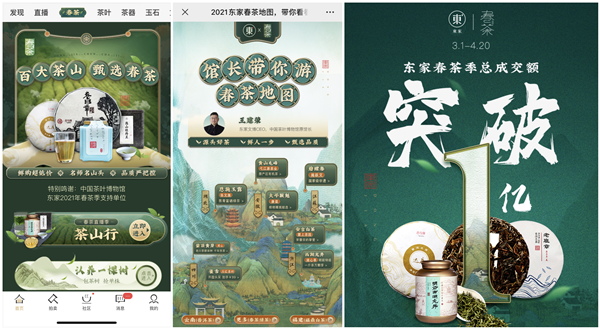 (The "spring tea season" activity on"Dongjia"app)
It is worth mentioning that just before the opening of Jingdezhen Porcelain Week, the "spring tea season" activity on this app had just wrapped up. According to statistics, the total sales of spring tea season exceeded RMB 100 million for the first time on this platform, soaring 200% year-on-year.
According to data from the app, in 2021, the percentage of tea users with a regular tea drinking habit will be over 77%, with 40% of consumers drinking tea every day. Among tea users, the proportion of men and women is 55% and 44% respectively, and 65% of tea users are from first-tier and second-tier cities. For the main purpose of drinking tea, 27% is for leisure and relaxation, 19% for lifestyle habits, 19% for health, and another 18% for refreshment. In addition, 50% of the users on the"Dongjia"app prefer Pu'er tea, 23% like white tea, 11% like green tea and 8% like oolong tea. Young people prefer black tea, with 20% of the post-90s and post-00s generations choosing black tea. Users generally prefer health-preserving tea, besides black tea and green tea. White-collar office workers love green tea most, followed by herbal tea and oolong tea.