Today is the first working day after the National Day holiday, when many citizens had to return to work with their nucleic acid test reports. Many nucleic acid testing sites across Shanghai have been busy with the tests and some medical institutions have extended the opening hours for nucleic acid testing.
According to the municipal health commission, citizens can look for the nearest testing sites on apps like "Suishenban" and "Jiankangyun" to reduce mass gathering during the epidemic.
At Huashan Hospital affiliated to Fudan University, the testing site saw a peak in nucleic acid test requests, most of which were from hospitalized patients and people returning to Shanghai for work. The hospital can now do 15,000 single-tube tests a day.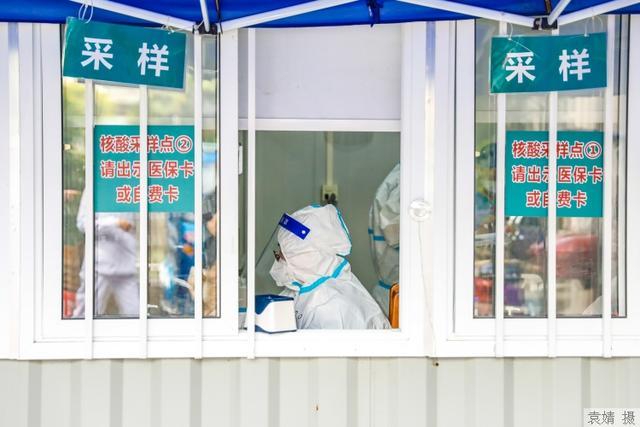 (Photo by Yuan Jing/WHB.cn)
Starting from October 5, 16 public medical institutions in Minhang District resumed their normal opening hours for testing. Nucleic acid testing in Shanghai No. 5 People's Hospital on Ruili Rd and Minhang District Central Hospital on Xinling Rd are available from Monday to Sunday. Citizens can make reservations online through the hospitals' WeChat accounts or an app named "Minhang Jieyi" to reduce waiting time.
At Putuo District Central Hospital, the testing is available from 8am to 10pm. The Yueyang Hospital of Integrated TCM and Western Medicine on Ganhe Road is one of those running 24 hours per day. Results can be obtained 4-6 hours after testing.
For greater urgency, citizens can go to Shanghai Baoteng Medical Laboratory at 180 Zhangheng Rd, which is open from 7am to 10pm. The cost of routine testing is 60 yuan/person, and the report will be produced within 6 hours; urgent nucleic acid testing will cost 200 yuan/person, and the report will be produced after 3 hours.