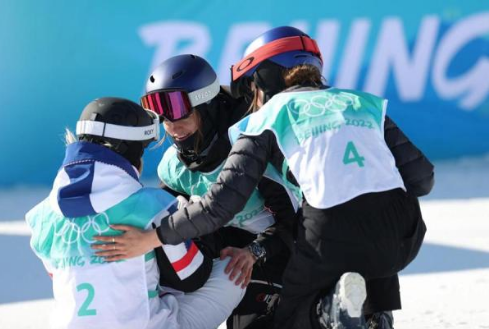 (Photo: Xinhua)

A sincere friendship can be gained from a warm hug or a heart-warming blessing. After the women's freestyle skiing Big Air Final on February 8, Ailing Gu, the gold medalist representing China, and bronze medalist Mathilde Gremaud representing Switzerland walked together to French athlete Tess Ledeux to comfort the sad and tearful silver medalist and their common opponent.
"I'm very grateful to her, it was Tess who jumped the most difficult move for women in the competition and that inspired me to take up the challenge and finish it successfully. I told her that I wanted to share the gold medal with her," said Ailing Gu.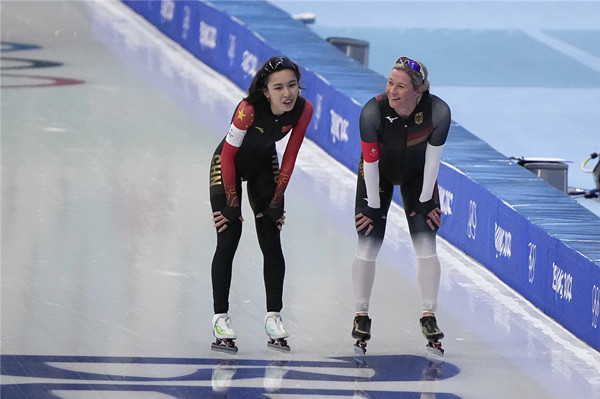 (Photo: CFP)

Competing fairly and encouraging each other is quite common at the Winter Olympics and competing with famous athletes is also inspiring for young players. In the women's 3000m speed skating, Chinese athlete Adake Ahenaer aged 22, set off in the same group with the 49-year-old German athlete Claudia Pechstein.
As the only woman to compete in 8 Olympic Winter Games, Pechstein's passion and dreams keep her going on. After crossing the finish line far ahead, Adake Ahenaer reached out to pay her respects to Pechstein, who is 27 years older than her. "It's a great honor to race in the same group with you," Adake Ahenaer said.
Facing the young Chinese athlete, Pechstein seemed to recall her former self as well. "You skate very well and you will definitely do better and better in the future," said Pechstein.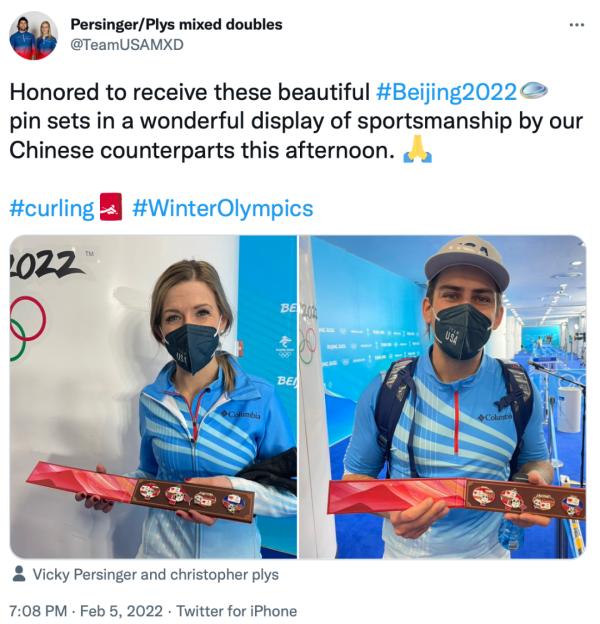 Athletes can be best of friends off-field but close rivals on-field. After the mixed doubles curling match between China and the United States, four specially designed badges of Bing Dwen Dwen were given by Chinese players Ling Zhi and Fan Suyuan, to their American opponents as surprise gifts.
"Curling turned out to be a social sport, and exchanging gifts is a tradition of this sport. I hope to use the gift to signify the friendship between the athletes," said Ling Zhi.
"A few days ago, we spent Chinese New Year in the Winter Olympic Village and the atmosphere here is particularly good," US curler Chris Plys said. After another game, US players gave Ling Zhi and Fan Suyuan the US team badges. Friendship begins to root deeply and grow strong in the venue.
The Olympic Winter Games is a stage for athletes from all over the world to communicate freely, using sports as a language with no boundaries. The players can harvest friendships into their lives by opening their hearts and encouraging each other.