30 multinational companies' regional headquarters and 10 R&D centers are awarded certificates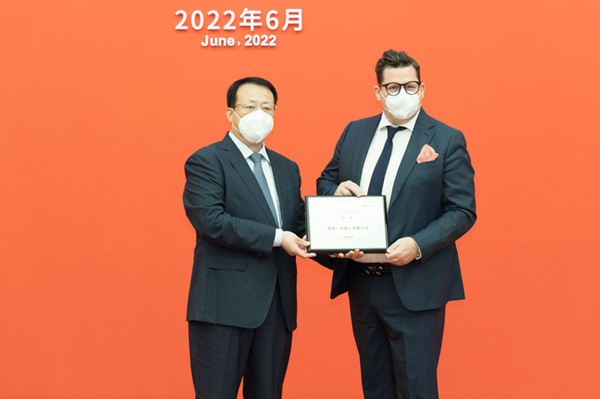 The 35th batch of headquarters of transnational corporations and R&D centers, comprising 30 newly recognized regional headquarters and 10 R&D centers of multinational companies, were awarded certificates by Shanghai Mayor Gong Zheng on June 15. By the end of May, 848 regional headquarters of multinational companies and 512 foreign R&D centers had settled in Shanghai, showing that Shanghai continues to be one of the most attractive destinations for foreign investment in the world.
Vice Mayor Zong Ming delivered a speech at the ceremony. The principals of Dyson Technology (Shanghai) Limited and Toshiba Elevator (China) Co., Ltd. made speeches on behalf of the group of transnational corporations' headquarters and R&D centers.
Among the enterprises awarded certificates this time, the split was 57.5% and 42.5% between the manufacturing and service industries respectively. Most of the enterprises belong to key industries for development in Shanghai, including 5 biomedical enterprises, 10 intelligent manufacturing enterprises, 3 automobile enterprises, 8 commercial and retail enterprises and 7 high-end service enterprises. They include Siemens Medical Devices, a world-leading German medical technology company, Omron, a world-renowned Japanese automation control and electronic equipment manufacturer, and Amer Sports, a well-known Finnish sports equipment brand management group. Among the 30 headquarters enterprises, 9 of them are regional headquarters for Greater China or even wider regions.
The headquarters economy is an important driving force of high quality urban development. The number of regional headquarters of multinational companies and foreign-funded R&D centers in Shanghai has been increasing and gaining impetus, which fully shows that foreign investment expectations and confidence in Shanghai have not changed, and that Shanghai is an important agglomeration of domestic and global development of headquarters economy has not changed. On May 29, Shanghai released an action plan for economic recovery and revitalization. Since June 1, the Shanghai municipal government has held 11 government-enterprise communication round table meetings in a row to listen to the demands of enterprises, respond to their concerns, and stabilize the expectations and confidence of foreign enterprises in Shanghai. Going forward, Shanghai will continue to accelerate the pace of opening-up, unleash policy effects to a greater extent, actively create a world-class business environment, and help multinational companies and other enterprises achieve greater development in Shanghai.