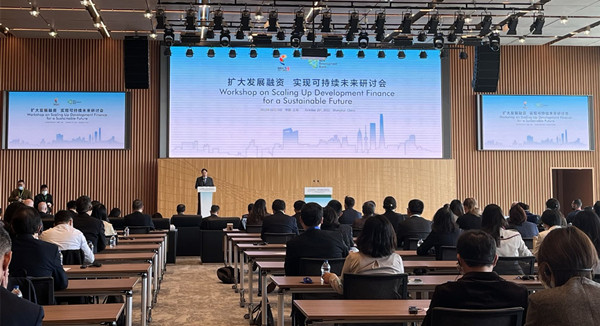 On October 25, the New Development Bank (NDB), in collaboration with the Ministry of Finance of China, hosted a workshop under the theme of "Scaling Up Development Finance for a Sustainable Future". The workshop was held in a hybrid format both at NDB's Headquarters in Shanghai and online. The workshop was participated in by representatives from governments, diplomatic missions, development finance institutions, academic institutions, private sector entities and other members of the development community.
"China, the BRICS Chair of 2022, took the initiative to incorporate the NDB-related topics into the outcomes of this year's summit. China is always willing to work with all parties to build NDB into a new type of Multilateral Development Institution of the 21st century, and make contributions to the sustainable development of the member countries," said H.E. Mr. Kun Liu, NDB's Governor for China, Minister of Finance, the People's Republic of China, in his address to the workshop.
Two moderated panel sessions, focusing on "Mobilising Resources for Sustainable Development" and "Expanding Development Impact" respectively, explored how the Bank can contribute to global growth and sustainable development by helping address the needs and aspirations of emerging market economies and developing countries (EMDCs) over the next five years.
The workshop also discussed various aspects of NDB's General Strategy for 2022-2026, which was approved by the Bank's Board of Governors in May, 2022. Mr. Marcos Troyjo, president of NDB said that NDB intends to deploy USD 30 billion from its balance sheet through loans, equity investments, and other tailored instruments over the 2022-2026 strategy cycle. In the same period it will also extend 30% of total financing in local currencies; provide 30% of total financing to non-sovereign operations; co-finance 20% of projects with partner Multilateral Development Banks; and direct 40% of total financing to projects contributing to climate change mitigation and adaptation, including energy transition.
The New Development Bank (NDB) is a multilateral development bank established by Brazil, Russia, India, China and South Africa (BRICS) in 2015. The NDB was created to be a global multilateral development bank, and its membership is open to all members of the United Nations. In 2021, the NDB admitted Bangladesh, Uruguay, the United Arab Emirates and Egypt as new member countries. The NDB has a robust and diversified portfolio of infrastructure and sustainable development projects. Since its establishment, the NDB has approved over 90 projects with a total amount of approximately USD 32 billion. As of end of Q3 2022, the Bank has approved 19 projects in China with loans totaling USD 7.15 billion.
Ever since the initial COVID-19 outbreak, NDB has played an important role in addressing the urgent needs of its member countries. The bank has committed to providing up to USD 10 billion for the crisis-related Emergency Assistance Facility, including USD 5 billion for member countries' most urgent needs, including health-related current expenditures and social safety nets, as well as USD 5 billion to support economic recovery.