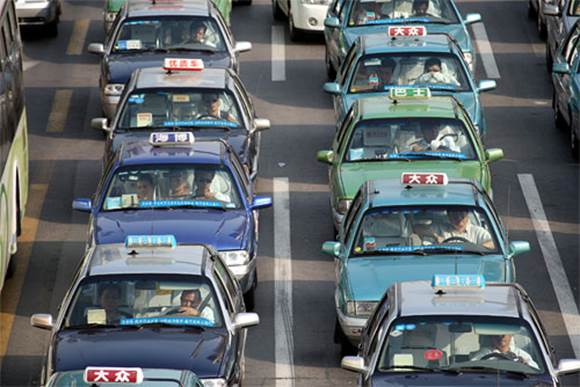 Taking a taxi is a fast and convenient transport option to navigate around Shanghai. It is also more worthwhile and economical to share a taxi if you are moving with companions.

There are more than 50,000 taxis in Shanghai city and they are relatively safe and reliable. The taxi's registration plate number and the company's complain phone numbers are clearly displayed in the car.

Legitimate taxis can be easily identified by the logo light on the top of the car. A unique feature of the Shanghai taxi would be the transparent shield around the driver's seat which serves as a protection of the driver against. Each taxi should be equipped with a meter and an illuminated vacancy disk on the dashboard. The vacancy disk indicates whether the cab is available.

When the disk is upright and illuminated showing two Chinese characters -- 空车 -- it means the cab is vacant. Without all the above-mentioned items, the taxi is probably unlicensed and you should avoid taking it, even if the driver solicits you. You have no rights if you get injured in an unlicensed taxi.

Taxis can be in short supply during peak periods, rainy days or on public holidays. Passengers are advised to plan their journey accordingly during these circumstances to allow for longer waiting times.

Major taxi companies in Shanghai

There are several taxi companies of different colored cars. Among them, the sky-blue coloredDazhong Taxi Company is the most reputable taxi company among the locals. Other commonly seen taxi companies include Qiangsheng (Green), Jinjiang (White), Fanlanhong (Red), Haibo (Sapphire Blue), and LanseLianmeng (Navy Blue).

Catered to serve the needs of the Expo 2010 visitors, 4000 additional taxis including 3650 Volkswagen Touran sedans and 350 Buick LaCrosse hybrid power cars from Shanghai's five major taxi companies were introduced. These taxis were mainly responsible of bringing residents, enterprises in the Expo area and participants of the event to and from hotels.

However, after the Expo 2010, they were pushed to the market as normal taxis, except the 350 hybrid cars which cost higher maintenance fees. Till now, these taxis can be found on the road and they also provide the same services, similar colors and logos as the other ordinary taxis.

Fares

Taking taxis in Shanghai is more expensive than in other cities. In the daytime, the minimum fare is 13 Yuan for the first 3 kilometers (1.9 miles), an additional charge of 2.4 Yuan for every succeeding kilometer within 10 kilometers (6.2 miles) and 3.6 Yuan for every succeeding kilometer after 10 kilometers. An additional fuel surcharge of 1 Yuan should be paid per journey. Being stuck in a traffic jam bumps up the bill as five minutes of waiting time costs the same as a kilometer.

A 30 % night surcharge applies from 11pm to 5am.

At night from 11pm to 5am the next morning, the fare is 18 Yuan (including 1 Yuan of fuel surcharge) for the first three kilometers, an additional charge of 3.1 Yuan for every succeeding kilometer within 10 kilometers and 4.1yuan for every succeeding kilometer after 10 kilometers.

Whether you take a taxi during daytime or at night, 2.1yuan (3.1 Yuan at night) will be added for every five minutes of stop time.

How to read a taxi receipt?

In Shanghai, pooling a cab with strangers is banned.

Besides flagging down a cab on the street, you can also book a car by phone. There is no service fee for phone bookings except Dazhong Company, which charges 4 Yuan for each telephone or online reservation. The taxi hotline is 96822 and English is available.

You can also send a short message of your detailed location to the call center's short message service (SMS) platform to ask for a taxi. The center will notify you in about 10 minutes whether a cab is available. China Mobile subscribers should send messages to 555596965, and China Unicom users to 2196965.

But the SMS platform is not available yet in English.

In addition to the 96965 hotline, the four biggest taxi operators in Shanghai have their own call centers, but no SMS service.

Tips

? As mentioned, you may find cabs scarce in rush hours and on rainy days. Taxi call centers will also become too busy to reach in these situations. Your best bet is probably to head for places taxis haunt, such as restaurants. Although taxis don't often park outside restaurants, many people go there by taxi. If you are quick enough, you can jump in as other passengers get out.

? Don't try to hail a cab at a crossroads, as taxi drivers cannot stop their cars within 30 meters from an intersection to pick up passengers.

? Cabbies in Shanghai are also not allowed to take a tip. Most of them are amicable, but their English is limited. So it's best to get someone to write down your destination in Chinese.

? Remember to take the receipt. The slip will contain information on the taxi, including its plate number and the taxi company. In case you leave something in the car, the receipt will give you clues to find it.

? "Juzai" (拒载) is not a technical term, but the Chinese phrase is only used in the taxi industry. It means cabbies refuse to drive passengers to the destination they want. In Shanghai, taxi drivers are not allowed to do so for any reason, once the passenger is in the car. Although "juzai" rarely happens nowadays, we think you'd better know something about this.

? In case you come across a "juzai" or some other unhappy experience with a taxi, you can complain to the local taxi authority by dialling 962000.

? All the city's taxis are compatible with the Public Transportation Card. If a driver refuses to accept the card, you have the right to decline payment.

Other rentable vehicles (all with drivers)

Bigger or Luxurious car

If you have more than three companions, you can phone Dazhong's call center (96822) to book a bigger taxi, which can accommodate as many as seven passengers. The fares are the same as ordinary cabs.

Mini-bus

If you have more than 10 companions, you need to book a mini-bus, and you can dial Jinjiang's hotline 96961. But the supply of mini-buses is limited, so you should make a reservation as early as you can.

Bus and Coach

If you want to rent a coach, the number 6317-9190 of Dazhong will be useful for you. The companies can provide a variety of buses with 10 to 50 seats. But buses are charged on a daily basis rather than metered. Fares range from 500 Yuan a day to more than 1,000 Yuan a day.

Van

If you are moving house, you can dial Dazhong's 96811 or Qiangsheng's 62580000 to book a van. The minimum cost of a van of 0.6-ton capacity is 20 yuan covering 3 kilometers, and 3 Yuan for every additional kilometer. The minimum cost of a van of 0.9-ton capacity is 25 Yuan covering 3 kilometers, and 3.5 Yuan for every additional kilometer.