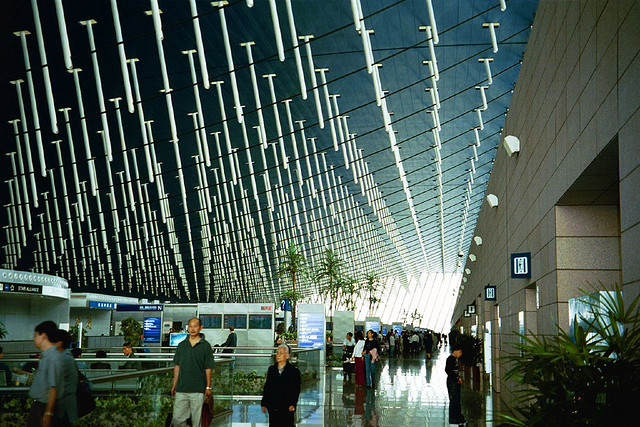 Shanghai Pudong International Airport (PVG)
Shanghai Pudong International Airport is the larger and newer of the two airports in Shanghai, and it predominantly handles international flights. Pudong Airport has two main passenger terminals, with an annual capacity of 60 million passengers, along with the ability to handle six million tons of freight.
The airport is the main hub for China Eastern Airlines and Shanghai Airlines, and a major international hub for Air China. It is also the hub for privately owned Juneyao Airlines and Spring Airlines, and an Asian-Pacific cargo hub for UPS and DHL.

For details on the arrival and departure flights, you may want to visit this website: http://en.shairport.com/ or call 96990.

New luggage regulations mean that passengers are now only allowed one piece of carry-on luggage. This regulation applies to all airports in China. For size and weight limit of luggage, please consult airlines.
Getting to and from Pudong Airport
Pudong Airport is about 30 km southeast downtown Shanghai – about an hour by car to People's Square. A cab from the city center to Pudong Airport should not cost more than 200 yuan, and it's convenient for those with no knowledge of Shanghai and lots of luggage. People driving or taking taxis to the airport are advised to take the A20 and follow the signs.

However there are other forms of public transportation available: Airport Shuttle Bus, the Maglev and the Shanghai Metro Line 2.

By Airport Shuttle Bus
There are eight airport bus lines that serve Pudong International Airport, providing rapid links to various destinations, including the popular parts of Shanghai such as People's Square, Jing'an Temple, Xujiahui, both railway stations, and Hongqiao International Airport

The buses are labelled "机场X线" (Airport Bus Line X) and typically operate on a 15to30 minute basis. Fares range from 2 to 22 yuan depending on distance travelled.

There are also long distance coaches (which go to neighbouring provinces and cities such as Suzhou and Hangzhou) and Hotel Shuttle Bus (which goes directly to the big hotels downtown).


By Maglev
Maglev is short for "magnetically levitating". As the name suggests, maglev trains levitate above the tracks and are propelled forward by electromagnetic force. The levitation means trains can reach up to 500kilometer/hour and the ride is exceptionally smooth.

Having started service on 29 January, 2004 as the first commercial high-speed maglev railway in the world, Shanghai Maglev Train links Pudong International Airport with Longyang Road Metro Station, where transfer to Line 2 or Line 7 is possible. The 30-kilometer ride from Longyang Road Metro station to Pudong International Airport typically takes less than eight minutes, with the maximum speed reaching 431 km/h. Trains operate every 15 minutes; therefore passengers can expect to arrive in less than 25 minutes, waiting time included.

A standard single-ride ticket costs 50 yuan and is valid for the day. For round-trip tickets that are valid within 7 days, they cost 80 yuan. You do however get a 20percent discount with a valid same day air ticket. This means that the ticket will cost 40 yuan and you have to present the air-ticket of the same day to enjoy the discount.

On the other hand, VIP tickets cost 100 yuan (single-trip) or 160 yuan (round-trip within 7 days).

All cars are equipped with racks and space designated for luggage.

Due to its first-in-the-world status, the maglev has also become something of a tourist attraction, with many foreigners buying a return ticket just for the thrill of experiencing its high speeds, and getting off at the end to take pictures with the train.

By Shanghai Metro

Shanghai Metro Line 2 also provides service between Pudong International Airport and Longyang Road, Lujiazui Financial Zone, People's Square, and Hongqiao International Airport, Shanghai's primary domestic airport. Line 2 is part of the Shanghai Metro system; therefore unlike the Maglev, free in-system transfers to other lines are possible, with ticket prices varying from 3 yuan to 10 yuan.

Prices are substantially lower than the Maglev (6yuan from Pudong International Airport to Longyang Road and Lujiazui, 7 yuan to People's Square, 8yuan to Hongqiao International Airport). However, trips take longer due to lower speed of trains. A casual ride to People's Square, the city center, typically takes just over one hour. It is wise to allow more than five hours for a safe flight transfer at Hongqiao International Airport using public transportation.

It should further be noted that Line 2 operates in two sections: trains from Pudong International Airport terminate at Guanglan Road, where passengers wishing to travel on change trains across the platform. In addition, not all trains go to Hongqiao International Airport.

Pudong Terminal 1
Terminal 1 was opened on October 1, 1999 along with a 4,000meter runway and a cargo hub. The exterior of the terminal is shaped like waves. It was built to handle and relieve the rising traffic at Shanghai Hongqiao International Airport. The capacity of Terminal 1 is 20 million passengers and it currently has 204 check-in counters, 13 luggage conveying belts, covering an area of 280,000 square meters. Terminal 1 has received some controversy about the lack of shopping stalls and the pricing of the shops and restaurants.

Pudong Terminal 2
Terminal 2 was opened on 26 March, 2008. Terminal 2 has a similar design as Terminal 1 but it has more of a seagull silhouette, rather than a wave shape and is slightly larger than Terminal 1.

The new building has four floors. The third floor is reserved for international departures, the second floor for domestic departures and the ground floor for luggage claims. The fourth floor provides dining and shopping services, plus hourly-charged hotel rooms and gym facilities. Toilets, baby-care rooms and smoking areas are available on all floors of Terminal 2.

International transit passengers who don't need to claim luggage can go to any of the nine service desks to complete transfer procedures and then move to their departure areas after security checks.

Passengers with Special Needs
Passengers with special needs are well taken care of at Shanghai airports. In addition to elevators and ramps facilitating wheelchair users, the airport is also equipped with TDD telephones and handicapped toilets at several locations.

The 'Kind Help Passage' is meant to ease the process of checking in and navigating around the airport for the elderly (above 70 years old), pregnant women and the disabled. They can help you with tickets, security checks, immigration, customs and boarding procedures at your request. However, they are unable to provide wheelchairs.

If you require a wheelchair you should ask the airline with which you're flying if they can provide one.

For senior (70 years or older), pregnant and disabled passengers, Pudong Airport offers free pushcart services, and these passengers can prioritize in check-in, security check, boarding and so on. Please go to the information counter of the airport for such services. To request this service go to the information points on, floor 3 of Terminal 2.

Shanghai Hongqiao International Airport (SHA)

Shanghai Hongqiao International Airport is the main domestic airport serving Shanghai, with limited international flights. It is located near the town of Hongqiao in Changning District, 13 kilometers west of downtown, and is closer to the city center than Pudong Airport; Shanghai's main international airport. Hongqiao Airport is a hub for China Eastern Airlines, Shanghai Airlines, Juneyao Airlines and Spring Airlines.

Over the recent years, Hongqiao Airport has developed into an international airport and transportation hub. It now has both international and domestic flights daily to Japan, South Korea, China's Taiwan, Hong Kong, Macau, as well as many of the other cities in China.

Apart from flights, the transportation hub is also integrated with metro, trains, taxis and buses, linking to places both in and out of Shanghai. Already a convenient and comprehensive hub, it will expand further in the coming years to become a major transportation center in Shanghai.

The hub is segmented into 5 different buildings, namely the Airport Terminal 1 and Terminal 2 for flights, the Hongqiao Railway Station, followed by the East Traffic Center and West Traffic Center for buses.

Information Counters
There are information counters and ushers located all around the hub. Most of them can speak simple English. You can inquire any required information from them before leaving the hub.

Terminal 1
Shanghai Hongqiao International Airport has terminals – Terminal 1 (T1) and Terminal 2 (T2). Terminal 1 is the old Shanghai Hongqiao Airport located east of the present Terminal 2. Terminal 1 and Terminal 2 are linked by subway line 2 and 10.

Terminal 1 has two parts – Building A and Building B. Building B is exclusive for Spring Airlines, and the Building A is for All Nippon Airways, Japan Airlines, Asiana Airlines, Korean Air and flights to Japan and Korea by Shanghai Airlines, China Eastern Airlines

Terminal 2 and East Traffic Center

Terminal 2 was opened to the public on March 16, 2010. It is four times the size of Terminal 1and can accommodate 90percent of all airlines at the airport. As Terminal 2 is designed for domestic flights, Terminal 1 is now exclusive for Spring Airlines and international flights.

Terminal 2 serves China Eastern Airlines, Shanghai Airlines, Shenzhen Airlines, AirChina, China Southern, Tianjin Airlines, Hainan Airlines, Xiamen Airlines, Shandong Airlines, Sichuan Airlines, Hebei Airlines and Juneyao Airlines.

Terminal 2 has three floors above the ground and one underground for subways. The arrival hall is on the first floor whereas the departure hall is on the third.

As mentioned previously, majorities of the flights at Terminal 2 are domestic flights. There are however, some international flights as well. Passengers are thus advised to check their departure terminal carefully before arriving at the airport.

Getting to and from Hongqiao airport

By Taxi

A more convenient choice of transport would be taking a taxi. The taxi fare from Hongqiao International Airport to People's Square in the city center is approximately 60yuan and it takes about half an hour. A taxi from Hongqiao International Airport to Xujiahui, a bustling commercial area in Xuhui District, costs about 40 to 50yuan and takes 20 minutes.

The taxi stands at Hongqiao Airport are located at the exit of the Arrival Hall of Terminal 1and at the south side of Gate 4 of the Arrival Hall at Terminal2.

However, it may not easy to get a taxi in peak hours.

By Shanghai MetroThe Shanghai Metro lines 2 and 4 connect the two terminals of Hongqiao Airport to the city and further to Pudong Airport. Passengers can use these two subway lines to Hongqiao Railway Station, Yuyuan Garden, Jing'an Temple, People's Square, Nanjing East Road, Lujiazui, Longyang Road and Pudong International Airport directly from Hongqiao Airport.

Taking the Metro from Hongqiao Terminal 1

Passengers can also take Metro Line 10 eastwards to downtown, which includes popular tourist attractions such as the Shanghai Zoo, Shanghai Library and the Yuyuan Garden. The fare differs with the distance travelled between 3 and 6 yuan. It operates between 6am and 10:05pm. Metro Line 10 also connects Terminal 1 and Terminal2

Taking the Metro from Hongqiao Terminal 2

Passengers can take Line 2 or Line 10 to downtown Shanghai. The fare ranges between 3 and 7 yuan depending on the distanced travelled.

Similar to Terminal 1, Line 10 eastwards includes popular tourist attractions such as the Shanghai Zoo, Shanghai Public Library and the Old City God Temple. It operates between 5:56am and 10:01pm.

Line 2, would go to attractions such as Jing'an Temple, The Bund, Lujiazui, and all the way to Pudong International Airport. It operates between 5:35am and 10:50pm.

By Hongqiao Airport Shuttle Bus

You may consider the option of taking a bus to or from the airport. Here is a list of the bus services available at each terminal. Passengers who get to Terminal 1 first by other modes of transportation can change to Bus 941 to get to Terminal 2.

Passengers arriving at Terminal 1 can take public buses just outside the gates on the 1st floor.

Bus routes at Hongqiao Terminal 1:

No. 806: These buses run from Hongqiao airport to the LupuBridge between 6am and 11pm at intervals of five to 15 minutes. The line also has a stop at Xujiahui, and the whole trip costs 5 yuan.

No. 807: These buses run from Hongqiao airport to the Zhenguang New Village in Putuo District between 6am and 11pm. Fare is 4 yuan.

No. 925: Most of the route is along Yan'an Road and the buses link Hongqiao airport and People's Square between 6:10am and 10:42pm. Fare is 4 yuan.

No. 938: These buses run from Hongqiao airport to Yangjiadu in Pudong at intervals of 5 to 15 minutes, and the one-way fare is 7 yuan. This service operates from 6am until midnight.

Bus routes at Hongqiao Terminal 2:

Bus Services: Shuniu Line 4, Shuniu Line 9, Airport Bus Line 1 and 941 at daytime; night lines are 316 and 320.

Passengers arriving at Terminal 2 can take Public buses on the 1st floor (1F) of the East Traffic Center, which is located just right beside the terminal.

Airport Line 1 Express: These buses run non-stop from East Traffic Center to Pudong International Airport from 6am to 11pm. The opposite direction runs from 7am to 11pm. Fare is 30 yuan.

No. 941: These buses run from East Traffic Center to Shanghai Railway Station between 5:30am to 10:30pm. This line goes to by Terminal 1, Zhongshan Park and ShuiCheng Road. Fare is between 2 to 6 yuan depending on distance travelled.

No. 316: This overnight bus run from East Traffic Center to Yan'an East Road & Zhongshan East Road 1, from 11pm to 5am. The opposite direction runs from 12:20am to 4:20am. These buses also stop at Zhongshan Park. Fare is 2 yuan.

Hongqiao Shu Niu No. 4 (虹桥枢纽4路): These buses run from East Traffic Center to Purple Bamboo Science Garden Area between 6am and 11pm. The opposite direction ends earlier at 10.30pm. Fare is between 1 and 8 yuan depending on distance travelled.

Hongqiao Shu Niu No. 9 (虹桥枢纽9路): These buses run non-stop from East Traffic Center to Jiading West Station between 6am and 11pm. The opposite direction runs between 4:50am and 10pm. Fare is 10 yuan.

To Shanghai Hongqiao Railway Station
Terminal 2

Passengers can take a 10-15 mins walk from the basement (B1) to Shanghai Hongqiao Railway Station through the East Traffic Center, or take Metro Line 2 or Line 10 one stop west at a fare of 3 yuan. For more information on trains in and out of the city, please see Hongqiao Railway Station section.

Transfer between Terminal 1 & 2
Terminal 1 and 2 are separated by two runways. It is physically impossible to walk between the two as there are no sidewalks or roads constructed for pedestrians.

Passengers can take the Metro Line 10 one stop to transfer between the two terminals.

Passenger can also take a free shuttle bus that runs between the two terminals every 15 mins interval (5 mins for rush period). The journey would take another 15 mins, which adds up to a total transfer time of about 30 mins.

From Terminal 1 to Terminal 2, the buses operate between 6am and 10:30pm. Passenger can board outside gate 6 on the 2nd floor.

From Terminal 2 to Terminal 1, the buses operate between 6am and 11pm. Passenger can board outside gate 1 of the arrival hall.

Please note that a transit between Terminal 1 to Terminal 2 can take up to 45 mins during rush hour, and there will be no buses or metro that link the two after 10pm.

Some airlines arriving before or after the above timings may arrange transport for passengers to transfer. However, that would depend on the decision of the airline, and there is no guarantee. Taking the Taxi, would then be the alternative.

West Traffic Center
This traffic center is on the far west side of the airport after the Hongqiao Railway Station. It serves mainly long distance buses and public buses that go to places away from downtown.

Fares for Long Distance Buses can range from 18 yuan all the way up to 150 yuan depending on the distance travelled.

Passengers can also take the public Hongqiao Shu Niu buses which runs from 6am to 11pm. Fares are between 1 and 8 yuan depending on distance travelled.

Hongqiao Shu Niu No. 5 (虹桥枢纽5路): Towards Nanqiao Bus Station. (南桥汽车站)

Hongqiao Shu Niu No. 6 (虹桥枢纽6路): Towards Qingpu Bus Station. (青浦汽车站)

Hongqiao Shu Niu No. 7 (虹桥枢纽6路): Towards Shihua Bus Station. (石化汽车站)

Hongqiao Shu Niu No. 8 (虹桥枢纽6路): Towards Zhujing Bus Station. (朱泾汽车站)

Hongqiao Shu Niu No. 10 (虹桥枢纽6路): Towards Songjiang Bus Station. (松江汽车站)