Vigorous Spanish Company President: " Shanghai's temperament is very similar to mine "
Since the Magnolia Awards, a series of awards given as recognition of the contributions foreigners in Shanghai have made to the city, was established in 1989, 42 foreigners recommended by the Huangpu District have won this award.
In order to commemorate the thirtieth anniversary of the Shanghai Magnolia Awards, Huangpu District plans to hold a celebration activity in November.
Eastday has therefore especially launched a series of exclusive interviews to review these award winners stories in Huangpu District and Shanghai.
Vigorous Spanish Company President: " Shanghai's temperament is very similar to mine "
Enthusiastic, full of vitality and straightforward are the words people often use to evaluate Javier Gimeno, just like people's common first impression of his hometown Madrid.

In the eyes of this Spanish company president, "Chinese and Spanish have a lot in common", and his own temperament is very similar to that of Shanghainese. In his words, he hasn't had any troubles during his nine years in the city, which he considers to be the most suitable city to live and work among all the cities he has stayed in.
He personally achieved the leap from the Asia Pacific President of Saint-Gobain's Safety Glass business department, to the President of the Asia Pacific region, and then to the Senior Vice President of the group during this 9 year period. At the same time, he has also led the company to create milestones over and over again and meanwhile made contributions to the city's green transformation and public welfare.
Science and innovation to boost city's green transformation
Since it invested in China in 1985 for the first time, Saint-Gobain group, one of the top 100 industrial groups in the world, has been expanding its business in the country. Nowadays, Saint-Gobain's high-performance products are widely used in all aspects of industrial applications in China, such as automobile glass, architectural glass, gypsum building materials and industrial mortar, which are closely related to our daily lives.
In 2005, Saint-Gobain only had an office in Shanghai's Huangpu district. In 2007, it moved its Chinese headquarters to Shanghai. With the help of the Huangpu District government, the expanded settlement in Shanghai was quite smooth. Later, its research and development center was also set up here. Up to now, the group has nearly 40 production bases in China and has gathered a large number of excellent talents to develop products in accordance with the needs of the Chinese market.
Saint-Gobain has applied for nearly 200 patents in China, which has greatly promoted China's technological innovation and economic transformation. Several achievements have also been promoted to the world by other global branches of Saint-Gobain, making the world see the strength of "Made by China".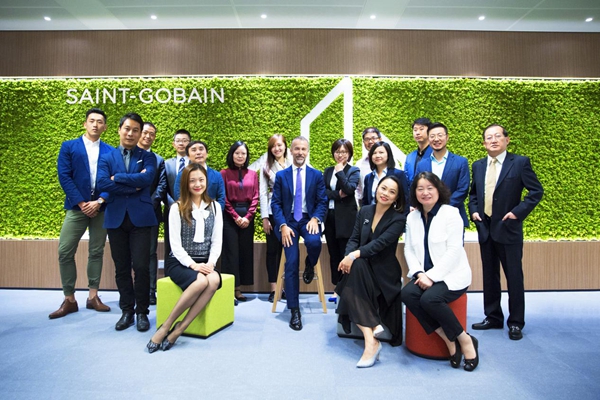 The Saint-Gobain team pose for a photo for the upcoming celebration activity. [Photo provided to Eastday]

In 2017, driven by Javier Gimeno, Saint-Gobain signed cooperation agreements with the Shanghai Caohejing Hi-Tech Park and the China Baowu Wusongkou business park to integrate relevant resources to jointly incubate innovation and entrepreneurship projects, thus actively supporting Shanghai's goal of becoming a global influential science and technology innovation center.
Green development is one of the key tasks of the Chinese government in recent years and it is also the tenet of Saint-Gobain, an old brand with a history of more than 350 years. Javier Gimeno actively responded to this call by introducing the most advanced concepts and innovative green building solutions to the Chinese market. He said that Saint-Gobain China has developed and produced high-performance materials with high environmental protection standards long before other companies. "Although this made our products more expensive and thus less competitive in price, we believe that as an enterprise we need performance, but we should also respect nature."
Under his leadership, the second phase of the group's Shanghai research and development center project was launched in 2013. The building was constructed with green environmental protection materials, and obtained the LEED green building certification. In 2016, Saint-Gobain's first "Multi-comfort" reduced environmental footprint building in China was also opened to the public, bringing new inspiration to the development of China's green building industry and setting a new benchmark for the next generation of eco-friendly multi-functional buildings in the world.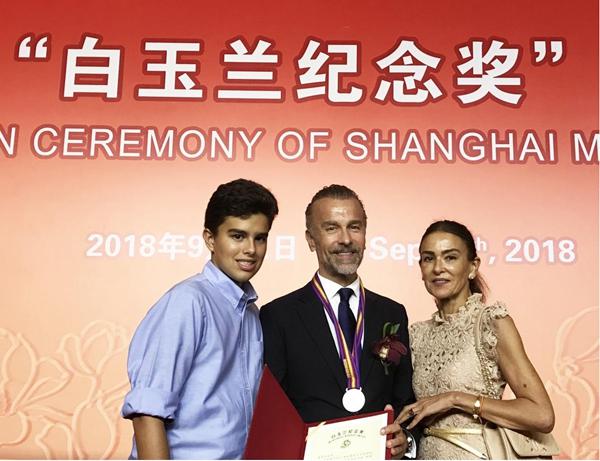 Javier Gimeno and his family at the 2018 Shanghai Magnolia Awards Ceremony.[Photo provided to Eastday]
Giving back to society through public welfare and cooperative exchange
Javier Gimeno is grateful for the strong support from the government in the process of Saint-Gobain's settlement and its later development and expansion in Shanghai, and admires the government's rapid execution. Accordingly, he has been giving back to the society with practical actions.
Over the past 10 years, the Saint-Gobain foundation has invested more than 11 million euros in the world through carrying out 207 charity projects. In China, it has also helped schools in poor areas to rebuild bathrooms and playgrounds, supported special schools to decorate autistic children's rehabilitation training classrooms, and helped build botanical gardens for training centers for vulnerable groups. On October 16 and 17 of this year, the company held a charity sample sale in the Shanghai SMG building. The nearly 100,000 yuan received were all donated to fund the operations of three children with heart disease.
Gimeno also volunteered to be president of the CCI (Chambers of Commerce and Industry) France China. In the past four years, he has reorganized the institution and introduced a large number of Chinese enterprises, thus truly realizing the interconnection between Chinese and French enterprises. Through vigorous reform, he turned the institution's loss into a profit.
He has also led and participated in the Sino-French Business Forum and CEO round table meetings many times to increase the understanding between Chinese and French entrepreneurs, and organize mutual visits between the entrepreneurial teams of the two countries to promote cooperation. Having majored in law and economics, he has a deep understanding of the economic and trade cooperation between the two countries, and has thus participated in the "dialogue" column of CCTV many times and accepted an exclusive interview with a French channel, in which he emphasized the confidence of French enterprises for developing in China and the bright prospects of Sino-French cooperation.
In January 2018, French President Macron visited China for the first time since he took office. Gimeno received an interview from CCTV once again to interpret the importance of this visit to the development of the bilateral relationship, and also participated in arranging the visit's schedule, so as to provide suggestions for further exchanges and cooperation between Chinese and French enterprises.
In May 2019, as a founding member, Saint Gobain established a club with 50 business leaders of the two countries who are committed to friendship and cooperation between China and France.
Young bakers who were aided by Saint Gobain in a charity program pose for a photo. The program aims to provide free French baking training for teenagers from poor families for one year, so that they can become senior technicians and successfully enter five-star hotels or senior Western restaurants after graduation. [Photo provided to Eastday]
Enjoying life and carrying out the vision of the enterprise
The style of leaders has a great influence on corporate culture. During the interview, the Saint-Gobain team left us an impression of being demanding in work and enthusiastic for life. Javier Gimeno said that what he likes most about Chinese people generally is their sense of having a part and being together. He is gratified that his Chinese colleagues not only work hard, but also enjoy socialising together very much, and there are many contacts between his employees. "We have many activities. Every year, we hold a gala party, a family day activity, football games and so on. Employees will participate with their families." He always joins them in playing football, singing, and dancing. Interestingly, Saint-Gobain, an industrial company, even sponsors the "Tongji University Top Ten Singers Competition", which Gimeno attends every year and even performs with the students.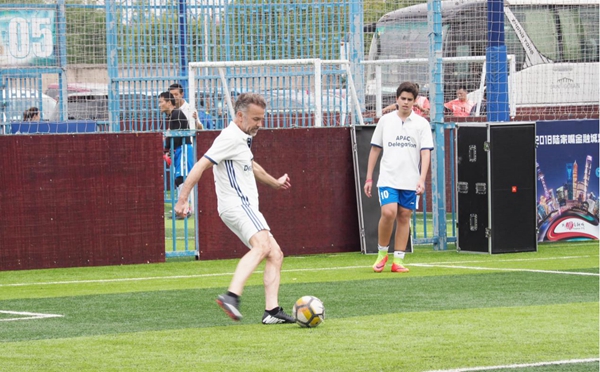 Javier Gimeno plays football in a competition held by the Saint-Gobain Cup. [Photo provided to Eastday]
On one of the company's walls, it says, "We help to create great living places and improve daily life." Actually, we can say that Gimeno and his colleagues put this concept into practice in their daily life.
(Story by Zheng Qian
Translated by Huang Ziling)